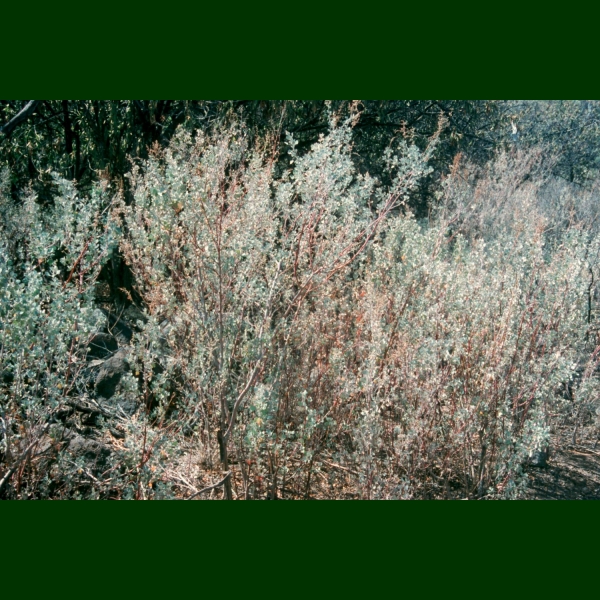 Hawaiian Name(s)
: 'āheahea, 'ahea, 'āhewahewa, alaweo, alaweo huna (Ni'ihau), 'āweoweo, kāha'iha'i
Scientific Name
: Chenopodium oahuense
Vernacular Name
: none
Family
: Chenopodiaceae
Status
: endemic
Authority
: (Meyen) Aellen
Description
: Lightly scented shrubs, sometimes tree-like.
Habitat
Occuring as a common or occasional element of dry habitats, ranging from 0–2520 m from coastal zones to dry forest and subalpine shrubland (Wagner
et al.
1990:538) on most main islands and some NWHI.
Medicines
: This plant is used to treat 'ea (thrush, etc.) and pa'ao'ao (ailments). The leaf buds are used to treat children; the bark is ingested [sometimes with niu (coconut,
Cocos nucifera
), kukui (
Aleurites moluccana
), lipoa (
Dictyopteris
spp.), or poi] as a cosmetic for children. For 'ea, 'aweoweo is ground together with uluhe (wawae 'iole kuahiwi, cf.
Huperzia
spp. or
Lycopodium
spp.), 'ala'ula (wawae 'iole kahakai, cf.
Codium edule
), 'ilima (
Sida fallax
), and marine shells, then mixed with water and fed to children in poi or possibly 'uala (sweet potato,
Ipomoea batatas
) (Chun 1994:64–66).
Non Medicinal Uses
: Leaves cooked and eaten as greens (Hillebrande 1888:380; Malo 1951:23). Part of composite fish hooks (Kamakau 1976:77; Krauss 1993:43) "The kahuna ho'omanamana called this plant 'iloe holokula, because it was used everywhere to induce death…[also used] with the 'ākia lau nui (
Wikstroemia
) and some bitter plants as firewood in the fireplaces used to send prayers" but also positive medicinal qualities (Chun 1994:64). The wood of the 'aheahea is not true wood, but secondary growth (Lamb 1981:36)
Specific gravity of wood
: unknown
Famous Locations
:
Mele
:
`Ōlelo Noeau
:
Dye Color and Parts
:
Kino lau
:
Location on Bishop Museum Kalihi Campus
:
Propagation Information
: Easy. Seed bearing utricles are easily collected by hand, don't bury deep, seeds germinate in 1 week & continues for 2–3 weeks; 1st or 2nd set of true leaves appear in 1 month & should be transplanted to indivudual pots, 2-3 months after it reaches 1 foot it should be planted out (Culliney and Koebele 1999:39–41).
Native Plants Hawaii
.
Seed
: Seed length approximately 1 mm. Photograph: B.Kennedy.
Click for image
MicroscopyCross Section
: Field of view: 2.6 mm x 1.6 mm. Photograph: H.Lennstrom.
Click for image
Radial Section
: Field of view: 2.6 mm x 1.6 mm. Photograph: H.Lennstrom.
Click for image
Tangential Section
: Field of view: 2.6 mm x 1.6 mm. Photograph: H.Lennstrom.
Click for image