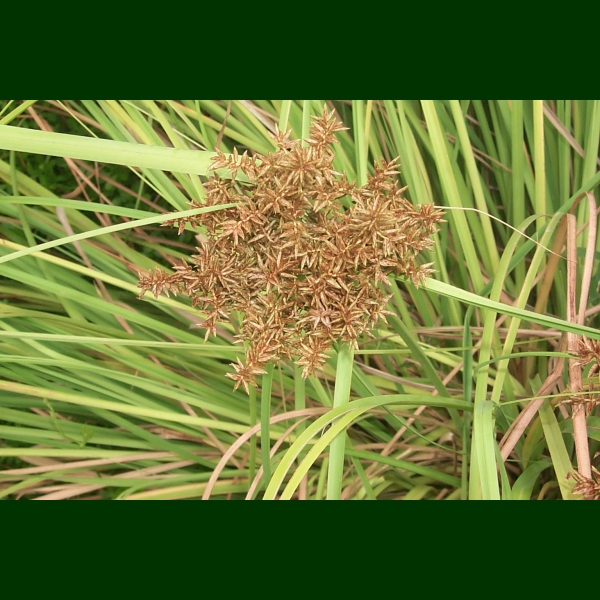 Hawaiian Name(s)
: 'ahu'awa, 'ehu'awa
Scientific Name
: Cyperus javanicus
Vernacular Name
: sedge
Family
: Cyperaceae
Status
: indigenous
Authority
: Houtt.
Description
: Tall perennials 50-150 cm tall.
Habitat
Common in marshy areas, stream banks, loi kalo, rocky coasts, and cliffs 0-460 m on most main islands and Midway (Wagner
et al.
1990:1420, as
Mariscus javanicus
).
Medicines
: To treat 'ea in children, 'ahu'awa stems and flowers are used with green kukui fruit sap (
Aleurites moluccana
). 'Ahu'awa is also used with 'alaea clay, 'awa root (
Piper methysticum
), and kō kea (white sugar cane,
Saccharum officinarum
) for ule hilo & waiki (gonorrhea). Fine sediment of ahu'awa is mixed with lama kuahiwi for use on deep cuts, bruises, boils, cold sores; runny nose is treated by inhaling powdered 'ahu'awa (Chun 1994:13–14).
Non Medicinal Uses
: This indigenous plant was often cultivated. The
fibers
were made into two/three ply
cordage
used for lashing in house construction (Abbott 1992:62); the cordage also used in temporary fishing nets and for holding 'umeke (Abbott 1992:63, 91). Some say it was good for deep water fishing line and canoe rigging, too; the leaves also used to strain 'awa drink and medicines (Chun 1994:13).
Specific gravity of wood
: unknown
Famous Locations
:
Mele
:
`Ōlelo Noeau
: [I] Aia aku la paha i Waikiki i ka 'imi 'ahu'awa. Perhaps gone to Waikiki to seek the 'ahu'awa sedge. Gone where disappointment is met. A play on ahu (heap) and 'awa (sour). [II] O Honu'apo aku no ia o kahi o ka 'ahu'awa. That is Honu'apo where the 'ahu'awa grows. A Ka'u saying about disappointment. The 'ahu'awa was much used as fiber for straining 'awa. A play on hoka (to strain, to be disappointed).
Dye Color and Parts
:
Kino lau
:
Location on Bishop Museum Kalihi Campus
: Next to Castle Bldg
Propagation Information
:
Native Plants Hawaii
.
Seed
: Seed length approximately 1.5 mm. Photograph: B.Kennedy. Species:
Cyperus javanicus
.
Click for image