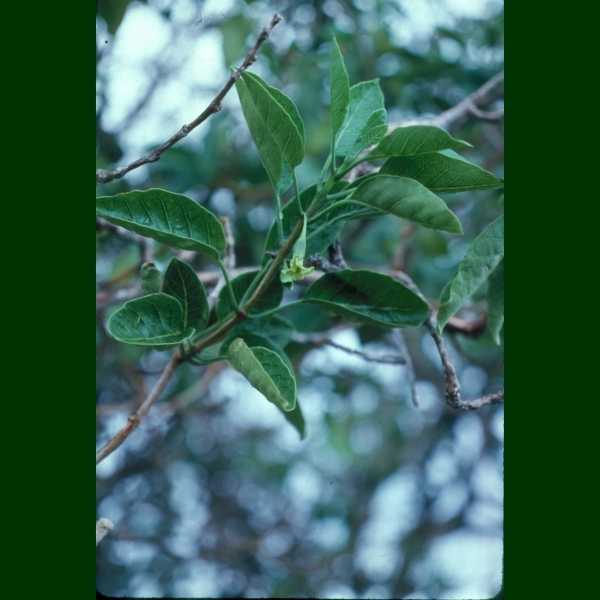 Hawaiian Name(s)
: 'aiea, hālena
Scientific Name
: Nothocestrum (4 species)
Vernacular Name
: none
Family
: Solanaceae
Status
: endemic
Authority
:
N. breviflorum
A.Gray,
N. latifolium
A.Gray,
N. longifolium
A.Gray ,
N. peltatum
Skottsb.
Description
: Large shrub/small tree.
Habitat
N. breviflorum
dry to mesic forest (Hawai'i),
N. latifolium
dry to mesic and diverse mesic forests 460–1530 m (Kaua'i, O'ahu, Moloka'i, Lana'i, Maui),
N. longifolium
usually wet forest, but alao mesic and diverse mesic forests 360–1620 m (all main islands execpt Ni'ihau and Kaho'olawe),
N. peltanum
diverse mesic forest 915–1220 m (Kaua'i) (Wagner
et al.
1990:1263–1264).
Medicines
: The leaves, bark, and tap root are pounded, mixed with water, strained, heated with hot rocks, and cooled to use in the treatment of puho kolekole a 'a'ai (abcesses). It is also made into a liquid medicine with 'ohi'a bark (
Metrosideros
spp.), moa holo kula (
Psilotum nudum
) and kō honua'ula (red/purple sugarcane,
Saccharum officinarum
) for puho kolekole (Chun 1994:15–16).
Non Medicinal Uses
: The wood used as gunwale (moamoa) (Krauss 1993:50; Malo 1951:21).
Specific gravity of wood
: unknown
Famous Locations
:
Mele
:
`Ōlelo Noeau
:
Dye Color and Parts
:
Kino lau
:
Location on Bishop Museum Kalihi Campus
:
Propagation Information
: Difficult to maintain. Grow from seeds. Young aiea often show spurts of growth followed by dormant periods, refrain from over fertilizing as they shock easily & will lose all or most of their leaves (Culliney and Koebele 1999:41–43).
Hawaiian Native Plant Propagation Database
.
Native Plants Hawaii
.
MicroscopyCross Section
: Field of view: 2.6 mm x 1.6 mm. Photograph: H.Lennstrom
Click for image
Radial Section
: Field of view: 2.6 mm x 1.6 mm. Photograph: H.Lennstrom
Click for image
Tangential Section
: Field of view: 2.6 mm x 1.6 mm. Photograph: H.Lennstrom
Click for image