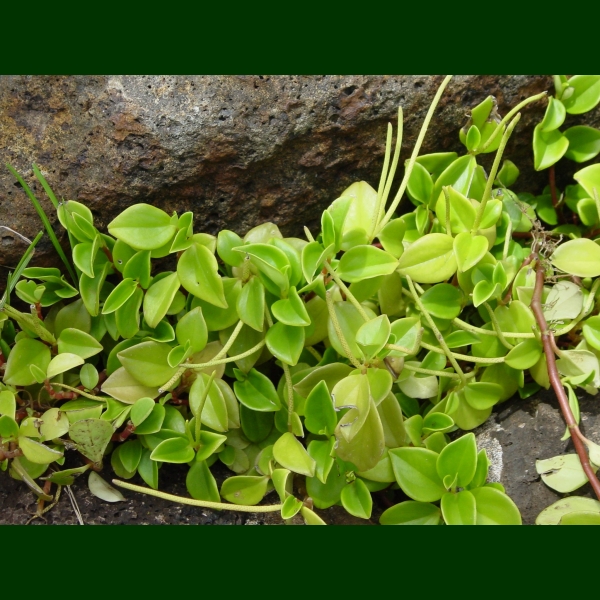 Hawaiian Name(s)
: 'ala'ala wai nui, 'ala'ala wai nui pehu
Scientific Name
: Peperomia (24 species)
Vernacular Name
: none
Family
: Piperaceae
Status
: endemic (23), indigenous (1)
Authority
:
P. alternifolia
Yunck.,
P. cookiana
C.DC.,
P. O.Deg.i
Yunck.,
P. eekana
C.DC.,
P. ellipticibacca
C.DC.,
P. expallescens
C.DC.,
P. globulanthera
C.DC.,
P. hesperomannii
Wawra,
P. hirtipetiola
C.DC.,
P. hypoleuca
,
P. kipahuluensis
H.St.John & C. Lamour,
P. kokeana
Yunck.,
P. latifolia
Miq.,
P. leptostachya
Hook. & Arn.,
P. ligustrina
Hillebr.,
P. macaeana
C.DC.,
P. mauiensis
Wawra,
P. membranacea
Hook. & Arn.,
P. oahuensis
C.DC.,
P. obovatilimba
C.DC.,
P. remyi
C.DC.,
P. rockii
C.DC.,
P. sandwicensis
Miq.,
P. subpetiolata
Yunck.,
P. tetraphylla
(G.Forst.) Hook. & Arn.
Description
: Succulent annual/perennial herbs up to 35 cm long.
Habitat
Species vary widely in habitats, many associated with a single island, most commonly favor wet habitats, although some species prefer dry to mesic environments; found from 0–2000 m (Wagner
et al.
1990:1022–1037).
Medicines
: There are a number of medicinal uses of the plant called 'ala'ala wai nui (see Abbott 1992:102; Chun 1994:31–38; Handy
et al.
1934), but there may be some confusion between two plants, the
Peperomia
species and
Plectranthus parviflorus
. The
Peperomia
species are associated with kane (man). Chun notes that the leafbuds of 'ala'ala wai nui pehu are combined with 'ilima flowers in a treatment for newborn babies. In the treatment of 'ea, the leaves are processed with bark of the 'ohi'a 'ai (
Syzygium malaccense
), kō kea (white sugarcane
Saccharum officinarum
), kukui flowers and fruit (
Aleurites moluccana
), 'aka'akai 'oliana (onion) and kikania. For treatment of kohepopo, hinanawe, hopilo, and wai'opua the stems are mixed with pith of 'amau'ama'u (
Sadleria cyatheoides
), hala (
Pandanus tectorius
), 'ohi'a 'ai bark (
Syzygium malaccense
), kō kea (white sugarcane,
Saccharum officinarum
), and noni fruit (
Morinda citrifolia
). For ke'ewai and ni'au, 'ala'ala wai nui is used in conjunction with 'uala (sweet potato,
Ipomoea batatas
), noni bark, hāpu'u shoots (
Cibotium
spp.), kō kea, and kukui. In treatment of ma'i wai kohepopo a nawai hele a lena ka walewale, flower, leaf and stem are ground and mixed with niu, and eaten with a "sticky" banana (Chun 1994:31–35).
Non Medicinal Uses
:
Specific gravity of wood
: n/a
Famous Locations
:
Mele
:
`Ōlelo Noeau
:
Dye Color and Parts
: Greyish-green (leaves, stems)
Kino lau
:
Location on Bishop Museum Kalihi Campus
: Yes
Propagation Information
: Grow from stem/tip cuttings 3-4 inches, remove lower leaves & flower spikes, cut upper leaves in half, place cuttings 1/2 inch deep in rich but well drained medium of equal parts of peat moss & perlite; leafy compost works well; place in cool/shady place, water 2 times a day (Bornhorst 1996:32–33; Bornhorst and Rauch 1994:7).
Hawaiian Native Plant Propagation Database
.
Native Plants Hawaii
.
Seed
: Seed length approximately 0.7 mm. Photograph: B.Kennedy. Species:
P. membranacea
.
Click for image