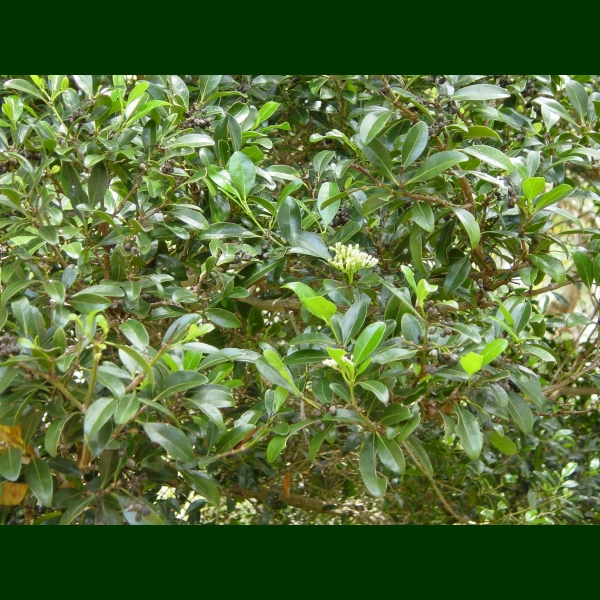 Hawaiian Name(s)
: alahe'e, walahe'e, ōhe'e
Scientific Name
: Psydrax odorata
Vernacular Name
: none
Family
: Rubiaceae
Status
: indigenous
Authority
: (G.Forst.) A.C.Sm. & S.P.Darwin
Description
: Shrub/small tree, to 7m.
Habitat
Found in dry shrubland, dry to mesic forest, and dry slopes; rare in wet forests 10–860 (1160) m most main islands (Wagner
et al.
1990:1119, as
Canthium odoratum
).
Medicines
:
Non Medicinal Uses
: Durable wood used as cutting tool on softer woods and for farming tools, shark hooks, bait sticks (charred over fire); leaves for dye (Krauss 1993:25, Little & Skolmen 1989:296; Rock 1913:437; Wagner
et al.
1990:1118); one of the hardest woods (Abbott 1992:12) that was fashioned into adzes (Kamakau 1976:122); sticks to keep pot lids open (Malo 1951:22). In the Ethnology Collection at Bishop Museum there is a post-contact example of the wood made into a
bowl
.
Specific gravity of wood
: unknown
Famous Locations
:
Mele
:
`Ōlelo Noeau
:
Dye Color and Parts
: Black (leaves)
Kino lau
:
Location on Bishop Museum Kalihi Campus
:
Propagation Information
: Intermediate (Bornhorst 1996:15; Bornhorst and Rauch 1994:57–58; Culliney and Koebele 1999:50–53; Nagata 1992:1993 addendum).
Hawaiian Native Plant Propagation Database
.
Native Plants Hawaii
.
Seed
: Seed length approximately 6 mm. Photograph: B.Kennedy.
Click for image