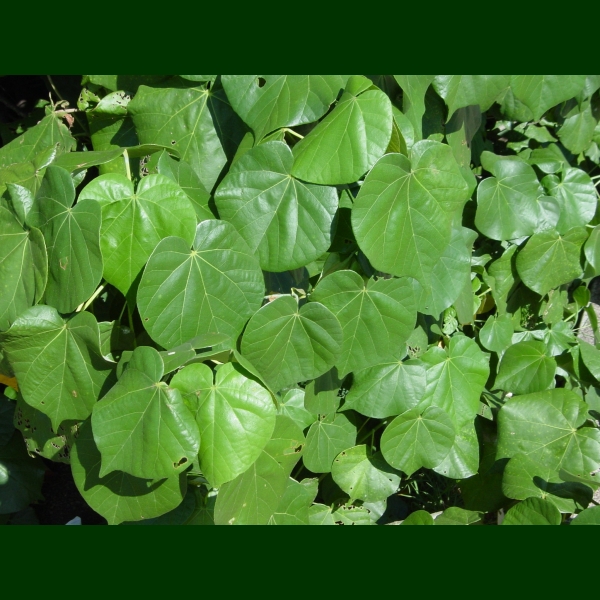 Hawaiian Name(s)
: hau, hau ka'eka'e
Scientific Name
: Hibiscus tiliaceus
Vernacular Name
: none
Family
: Malvaceae
Status
: indigenous?
Authority
: L.
Description
: Shrubs to small trees.
Habitat
Commonly occurring along coasts, streams, and other wet areas to 300 m on most main islands and some NWHI (Wagner
et al.
1990:888)
Medicines
: The flower buds and sap used as laxative and for 'ea and pa'ao'ao. That may be followed with an enema made from noni fruit (
Morinda citrifolia
). Sap from the bark was scraped and mixed with sap from the kikawaio fern (
Christella cyatheoides
) and 'uwi'uwi (cf.
Conyza
spp.), with root bark from 'uhaloa (
Waltheria indica
) and pōpolo (
Solanum americanum
) for chest congestion.The leaf buds were chewed/swallowed for dry throat. The inner bark (with sap) was soaked and drunk for labor pains and rubbed on stomach (Chun 1994:83–86). Sap used as an internal lubricant as a mild laxative and to facilitate the passage of a fetus through the birth canal (Abbott 1992:101).
Non Medicinal Uses
: Hau is a very useful plant. Its bast fibers can be used for
cordage
, its light wood for the spars of outriggers and floats for fishnets (Handy
et al.
1972:233), also used in firemaking with the harder wood of the Perrottetia (olomea). The hau "log" ('aunaki) was slightly hollowed and the pointed stick ('aulima) of olomea was rubbed in it to start fires. Branches also used in 'ohai sport known from Kaua'i, where oiled, burning branches were tossed from cliffs (Degener 1930:218); bark for sandals (Krauss 1993:71); used on hula altars (kuahu) (Emerson 1909:20). Cordage used to sew kapa sheets together or tie sandals, also for kapa design sticks (lapa), slingshots, string of a bow, branches set along shorelines to indicate kapu fishing zones, kite frames and adz handles (Lucas 1982:44). In the Ethnology Collection at Bishop Museum there is a post-contact example of the wood made into a
bowl
.
Specific gravity of wood
: 0.6
Famous Locations
:
Mele
:
`Ōlelo Noeau
: [I] Ka 'ili hau pa kai o 'Alio. The hau bark, wet by the sea sprays of 'Alio. This is a reference to a strong shore-dweller. Salt air and sea sprays made the bark of the hau trees on the shore stronger than those of the upland. 'Alio is a place on Kaua'i. [II] Ka makani ha'iha'i lau hau o Olowalu. The hau-leaf tearing wind of Olowalu. A gusty wind. [III] Ka pali 'oahi o Makana. The firebrand-hurling of the cliff of Makana. Papala or hau wood was cut, thoroughly dried, and carried up the hillside to where an imu lay ready to be lighted. When dusk desended, the imu was lighted and the logs placed in it. When the blowing of the wind was just right, the lighted log was hurled into the wind and borne seaward, high over the heads of the spectators, before dropping into the sea. [IV] Keke'e hau o Ma'alo. Crooked are the hau trees of Ma'alo. A humerous saying. The hau grove of Ma'alo, Maui, was known as a place for illicit love affairs. [V] Ki'ilili ka pau hau o Kalena. The hau blossoms of Kalena squat. Said of pretty young women who squat and do nothing–they are good lookers but not good workers. A play on lena (lazy) in Kalena. [VI] Pu'ali o Ka-hau-nui ia Ka-hau-iki. Big-hau-tree has a groove worn into it by Little-hau-tree. Said when a child nearly wears out the patience of the adult in charge of him, or of a large company of warriors discomfited by a small one. Kahaunui and Kahauiki are places just east of Moanalua, O'ahu.
Dye Color and Parts
:
Kino lau
: LUPEA.
Location on Bishop Museum Kalihi Campus
: lower campus
Propagation Information
: Cuttings/air-layers; sprawling branches & dense tangles make it hard to place it in a garden, must be properly pruned (Nagata 1992).
MicroscopyCross Section
: Field of view: 2.6 mm x 1.6 mm. Photograph: H.Lennstrom
Click for image
Radial Section
: Field of view: 2.6 mm x 1.6 mm. Photograph: H.Lennstrom
Click for image
Tangential Section
: Field of view: 2.6 mm x 1.6 mm. Photograph: H.Lennstrom
Click for image