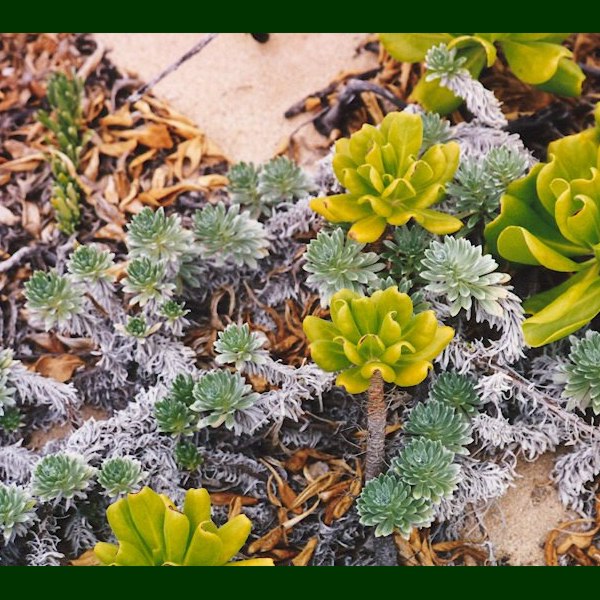 Hawaiian Name(s)
: hinahina, hinahina kū kahakai, nohonohopu'uone (Ni'ihau), pōhinahina
Scientific Name
: Heliotropium anomalum var. argentea
Vernacular Name
: heliotrope
Family
: Boraginaceae
Status
: endemic
Authority
:
H. anomalum
Hook. & Arn.
argentea
A.Gray
Description
: Subshrubs, sometimes forming mats 1-5 dm long; silvery foliage which are rosette clustered; 6-8 in. tall cultivated, 1-8 in. wild.
Habitat
Sandy sites in coastal areas on most of the main islands. Other varieties of this species are found throughout Polynesia (Wagner
et al.
1990 395).
Medicines
: Used in a treatment for 'ea and pa'ao'ao; leaves and flowers were combined with 'ōhi'a 'ai bark (
Syzygium malaccense
), kukui flowers and cooked fruit (
Aleurites moluccana
), and kō 'aina (sugarcane,
Saccharum officinarum
). A treatment of nae holaniku (asthma, etc.) and kohepopo holonae (womb or vaginal problems) uses stems, leaves, and flowers of the hinahina ku kahakai, as well as the leaves, flowers, and fruit of naio (
Myoporum sandwicense
), the bark of root of 'uhaloa (
Waltheria indica
), noni fruit (
Morinda citrifolia
), kō kea (white sugarcane,
Saccharum officinarum
) (Chun 1994:89–91).
Non Medicinal Uses
:
Specific gravity of wood
: unknown
Famous Locations
:
Mele
:
`Ōlelo Noeau
:
Dye Color and Parts
:
Kino lau
:
Location on Bishop Museum Kalihi Campus
:
Propagation Information
: Cuttings with potting mix of 1 part black/red cinder, 1 part peat moss, & 2 parts perlite; tolerant of drought/salt & wind; requires full sun, regular watering but the less water given the more silvery & succulent; don't overfertilize (Bornhorst 1996:29–30; Bornhorst and Rauch 1994:5; Nagata 1992).
Hawaiian Native Plant Propagation Database
.
Native Plants Hawaii
.
Seed
: Seed length approximately 3 mm. Photograph: B.Kennedy.
Click for image