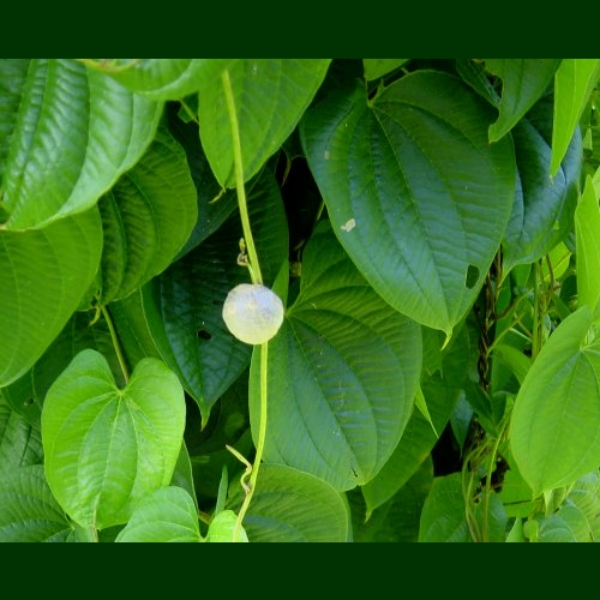 Hawaiian Name(s)
: hoi, pi'oi (Kauai)
Scientific Name
: Dioscorea bulbifera
Vernacular Name
: bitter yam, air potato
Family
: Dioscoreaceae
Status
: Polynesian introduction
Authority
: L.
Description
: Herbs with tubers 5-8 cm diameter, stems twining, slightly angled up to 30 m long.
Habitat
Shaded mesic valleys and disturbed mesic forest 5-670 m (Wagner
et al.
1990:1437).
Medicines
:
Non Medicinal Uses
: These bitter yams used only in times of famine; poisonous unless rinsed in running water prior to cooking (Abbott 1992:40).
Specific gravity of wood
: n/a
Famous Locations
:
Mele
:
`Ōlelo Noeau
: [I] 'A'ohe ulu ka hoi. The hoi vine does not grow. There is no interest in that. Said by one who lacks interest, or is bored with what is being said or done. A play on hoi (bitter yam) and hoihoi (interest). [II] Hu ka 'ala'ala.The aerial bulbs appeared. A lot of nothing worth troubling about. Here, 'ala'ala refers to the aerial bulbs on the hoi vine. 'Ala'ala is also the term applied to the liver of the octopus in songs and sayings, regarded as a symbol for something unimportant. [III] Ulu ka hoi. The hoi vines grows. There is an interest in what is going on. A play on hoihoi (interest).
Dye Color and Parts
:
Kino lau
:
Location on Bishop Museum Kalihi Campus
:
Propagation Information
: