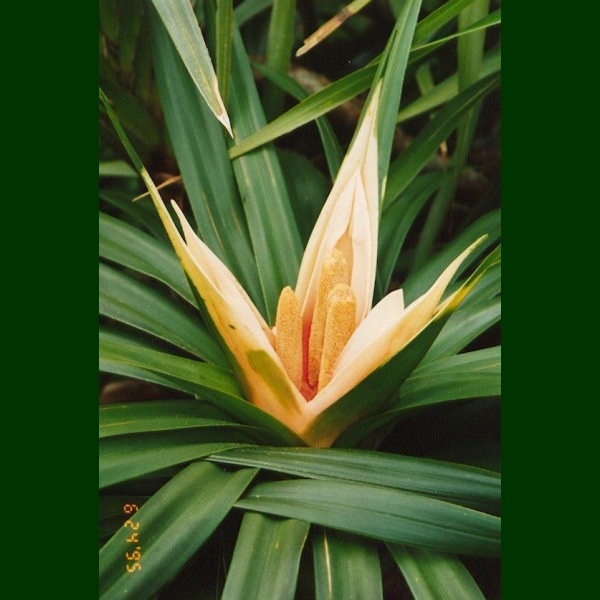 Hawaiian Name(s)
: 'ie'ie, 'ie
Scientific Name
: Freycinetia arborea
Vernacular Name
: none
Family
: Pandanaceae
Status
: indigenous
Authority
: Gaudich.
Description
: Woody climbers on trees, rocks, or sprawling on ground.
Habitat
Occuring most often in mesic to wet forest, commonly on exposed ridges and slopes between 300-1500 m on most main islands (Wagner
et al.
1990:1478–1479).
Medicines
: For the treatment of 'ea and pa'ao'ao. Part of plant near leaf bud is combined , kukui flowers (
Aleurites moluccana
), 'ōhi'a 'ai bark (
Syzygium malaccense
), 'ala'ala wai nui pehu stems (
Peperomia
spp.), root bark from 'uhaloa (
Waltheria indica
), and kō kea (white sugarcane,
Saccharum officinarum
).'Ie'ie leaf buds are also combined with clays, 'ala'ala wai nui pohina (
Plectranthus parviflorus
), and kukui bark. To bring on sleep when there is pain/burning/swelling of the chest, leaves and leaf buds of the 'ie'ie and 'ape ke'oke'o leaves (
Alocasia macrorrhizos
and/or
Xanthosoma robustum
) are placed in the sleeping area, and slept on by the patient (Chun 1994:96–98).
Non Medicinal Uses
: Offering at hula altars (kuahu) for Lauka'ie'ie (Emerson 1909:19; Pukui 1942). Used in
basketmaking
(Abbott 1992:105); roots used to make low circular
fish traps
; roots used for framework of
helmets
and feather capes, where feathers were attached (Krauss 1993:76) ; leaves/roots used to make handle of 'uli'uli (single-gourd/coconut rattle) (Krauss 1993:81).
Specific gravity of wood
: unknown
Famous Locations
:
Mele
:
`Ōlelo Noeau
: E 'imi wale no i ka lua o ka 'uwa'u 'a'ole e loa'a. Seek as you will the burrow of the 'uwa'u, it cannot be found. A boast of one's skill in lua fighting, of the depth of one's knowledge, or of a skill that isn't easily aquired. A play on lua, a burrow, a pit, or an art of fighting. The burrow of the 'uwa'u bird is often deep. Birdcatchers inserted a piece of the aerial root of the 'ie'ie, gummed at one end, to catch the fledglings.
Dye Color and Parts
:
Kino lau
:
Location on Bishop Museum Kalihi Campus
:
Propagation Information
:
Native Plants Hawaii
.
Seed
: Seed length approximately 7 mm. Photograph: H.Lennstrom.
Click for image