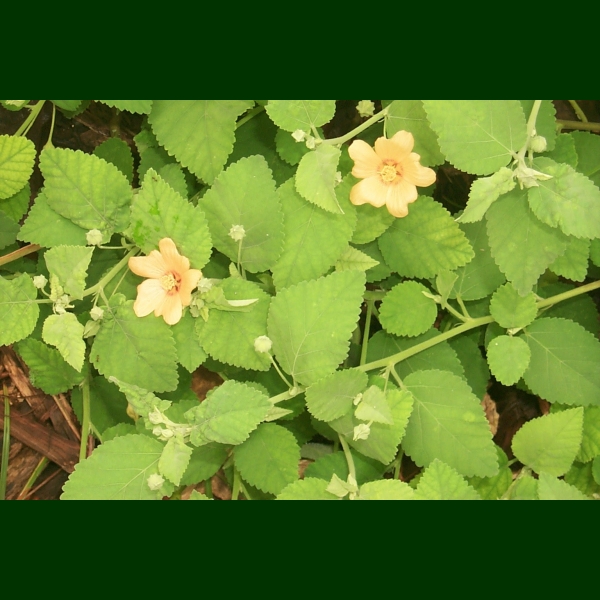 Hawaiian Name(s)
: 'ilima, apiki, 'ilima lei, kapuaokanakamaimai. 'ilima ku kala, 'ilima makana'a
Scientific Name
: Sida fallax
Vernacular Name
: none
Family
: Malvaceae
Status
: indigenous
Authority
: Walp.
Description
: Shrub 0.2-1.5 m.
Habitat
Common along coasts in rocky or sandy habitats, also in low open dry forest to mixed mesic forests, rare in low wet forest between 0-1980 m (Wagner
et al.
1990:897–898).
Medicines
: There are numerous different types of 'ilima that have different Hawaiian names. In one publication (Chun 1994) they are listed separately. For 'ilima lei, he notes that the buds are fed to very young babies. To treat pu'ao ha'ule (and maybe pu'ao pelu), the flowers of 'ilima lei are combined with leaf buds and flowers of the pōpolo (
Solanum americanum
), and dried niu fruit (coconut,
Cocos nucifera
). For the treatment of 'ea and pa'ao'ao, the root bark of the 'ilima lei is used with the flowers and leaf buds of 'uhaloa (
Waltheria indica
), flowers leaf buds, and stems of 'ala'ala wai nui pehu (
Peperomia
spp.), flowers, leaf buds, and leaves of pōpolo (
Solanum americanum
), noni fruit (
Morinda citrifolia
), and kō kea (white sugarcane,
Saccharum officinarum
). For nae and hano nae the leaf buds, flowers and root bark if the 'ilima lei are mixed with the root bark of the pukamole (
Lythrum maritimum
), and kō honua'ula (red-brown sugarcane,
Saccharum officinarum
) (Chun 1994:106–108). For 'ilima ku kula, it is used in the same manner as 'ilima lei, but is said to be more bitter (Chun 1994:109). The 'ilima makana'a is not used in the same treatments as the other types. For the illness malo'ohaha hou 'ole o ke kino (no perspiration or maybe dry skin), the treatment includes the use of a steambath with the bark of the 'ilima makana'a together with root bark of 'auko'i (
Senna occidentalis
) and pukamole, as well as the noni fruit, and kō kea (Chun 1994:109–110).
Non Medicinal Uses
: Often said that the flowers were used in lei that were for the ali'i (e.g. Degener 1930:209). Pukui notes that this is not strictly true (Handy
et al.
1972:227); stems used in house frames, and lashed together to encircle taro-planting mounds in swampland; vines as rough basketry and floor covering under sleeping mats (Handy
et al.
1972:228); used on hula altars (kuahu) (Emerson 1909:20).
Specific gravity of wood
: unknown
Famous Locations
:
Mele
: "Beautiful 'Ilima" (Elbert & Mahoe 1970).
`Ōlelo Noeau
: [I] Kahilihili lau 'ilima. A brushing off with 'ilima leaves. After leaping into dirt at Kaumaea, Ka'u, the players wiped off the dust that adhereed to their skin with 'ilima branches before going to Paiaha'a to surf. Later applied to one who takes a sketchy bath. [II] Ke kui la i na 'apiki lei o Makaiwa. Stringing the 'ilima flowers into lei at Makaiwa. A boy's boast of sexual activity. 'Apiki was another name for 'ilima. [III] Ola na 'ilima wai 'ole I ke ao 'opua. Healed are the 'ilima of waterless places by the rain cloud. [IV] Ola no i ka pua o ka 'ilima blossoms. The 'ilima blossom is one of the first medicines given to babies. It is a mild laxative. Hi'iaka, goddess of medicine in Pele's family, used 'ilima in some of her healings.
Dye Color and Parts
:
Kino lau
:
Location on Bishop Museum Kalihi Campus
: near Castle Bldg
Propagation Information
: Easy. Grow from seeds/cuttings (Bornhorst 1996:26; Bornhorst and Rauch 1994:2; Nagata 1992).
Hawaiian Native Plant Propagation Database
.
Native Plants Hawaii
.
Seed
: Seed length approximately 3 mm. Photograph: H.Lennstrom.
Click for image
MicroscopyCross Section
: Field of view: 2.6 mm x 1.6 mm. Photograph: H.Lennstrom
Click for image
Radial Section
: Field of view: 2.6 mm x 1.6 mm. Photograph: H.Lennstrom
Click for image
Tangential Section
: Field of view: 2.6 mm x 1.6 mm. Photograph: H.Lennstrom
Click for image