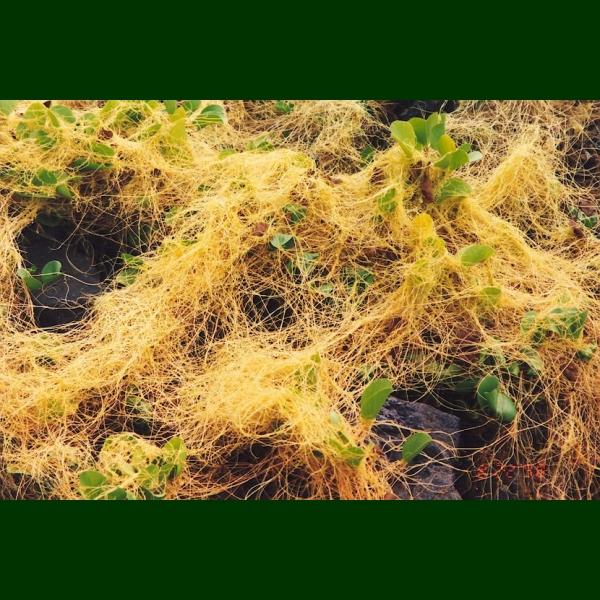 Hawaiian Name(s)
: kauna'oa, kauna'oa kahakai, kauna'oa lei, kauno'a, pōlolo, kauno'a pehu, kauno'a uli
Scientific Name
: Cuscuta sandwichiana
Vernacular Name
: dodder
Family
: Convolvulaceae
Status
: endemic
Authority
: Choisy
Description
: Vine with slender stems, yellowish orange.
Habitat
This parasitic plant can be found on a variety of plants in coastal areas, commonly in sandy soil between 0–300 m on most islands (Wagner
et al.
1990:583).
Medicines
: The kauna'oa is combined with moa holokula, moa lelo (?
Psilotum nudum
), and kī leaf buds (
Cordyline fruticosa
), ingested to induce vomitting to rid thick phlegm (chest cold) from the stomach. In addition, a liquid concoction is made of kaukao'a lelo and water and administered to women after childbirth to discharge the placenta and remove accumulated blood (Chun 1994:140–141).
Non Medicinal Uses
: Used in lei haku frequently worn by hula dancers (Abbott 1992:128)
Specific gravity of wood
: unknown
Famous Locations
:
Mele
: "Lei ana i ka pua o ke kauna'oa" line in "Lāni'i" (Elbert & Mahoe 1970:73).
`Ōlelo Noeau
:
Dye Color and Parts
:
Kino lau
:
Location on Bishop Museum Kalihi Campus
:
Propagation Information
: Because this is a parasitic plant you can take cuttings of it and wrap it around weeds/other undesirable plants (Bornhorst 1996:49–50).
Hawaiian Native Plant Propagation Database
.
Native Plants Hawaii
.
Seed
: Seed length approximately 1.5 mm. Photograph: B.Kennedy.
Click for image