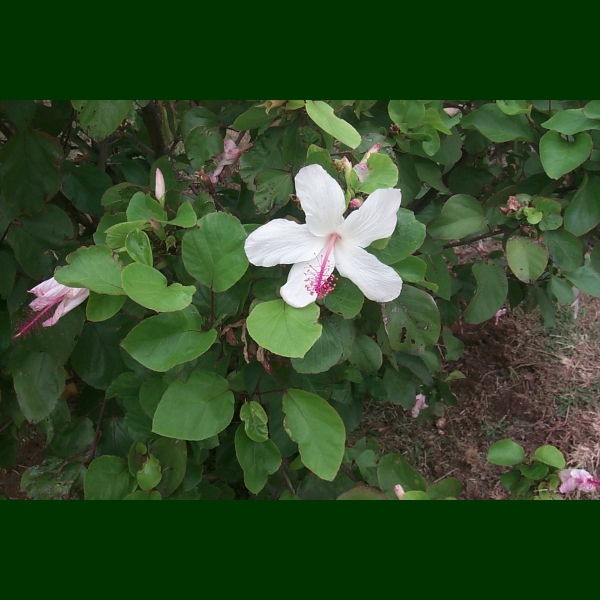 Hawaiian Name(s)
: koki'o ke'oke'o, hau hele, koki'o kea, pāmakani
Scientific Name
: Hibiscus arnottianus
Vernacular Name
: none
Family
: Malvaceae
Status
: endemic
Authority
: A.Gray
Description
: Shrubs/small trees, up to 8 m tall.
Habitat
Most often occuring in mesic to wet forests between 300–800 m on O'ahu and Moloka'i (Wagner
et al.
1990:882–883).
Medicines
: The illnesses 'ea and pa'ao'ao are treated with the flowers buds. The leaves are used as a purgative. For blood purification the flower buds are used in conjuction with the bark of the tap root, as well as the bark of the 'ahakea (
Bobea
spp.), 'ohi'a 'ai bark (
Ipomoea pes-caprae
), 'uhaloa bark, (
Waltheria indica
), kikania (
Desmodium sandwicense
) plant (except pods), pohuehue roots (
Ipomoea pes-caprae
), hāpu'u trunks (
Cibotium
spp.), 'auko'i stalks (
Senna occidentalis
), noni fuit (
Morinda citrifolia
), and kō honua'ula (red sugarcane,
Saccharum officinarum
) (Chun 1994:157–158).
Non Medicinal Uses
: "Many references" in songs and stories (Neal 1965:561), fiber for cordage (Bornhorst 1994:9)
Specific gravity of wood
: unknown
Famous Locations
:
Mele
:
`Ōlelo Noeau
:
Dye Color and Parts
:
Kino lau
:
Location on Bishop Museum Kalihi Campus
:
Propagation Information
: Easy. From cuttings, seeds, grafting & air layering; 4-6 inch tip/stem cuttings treat with medium strength rooting hormone, plant in perlite(&vermiculate) in pots/flats & place in mist system until roots develop, put in individual pots of peat moss & perlite with fertilizer (Bornhorst 1996:35–36; Bornhorst and Rauch 1994:8; Culliney and Koebele 1999:86–89; Nagata 1992).
Hawaiian Native Plant Propagation Database
.
Native Plants Hawaii
.
Seed
: Seed length approximately 5 mm. Photograph: H.Lennstrom.
Click for image