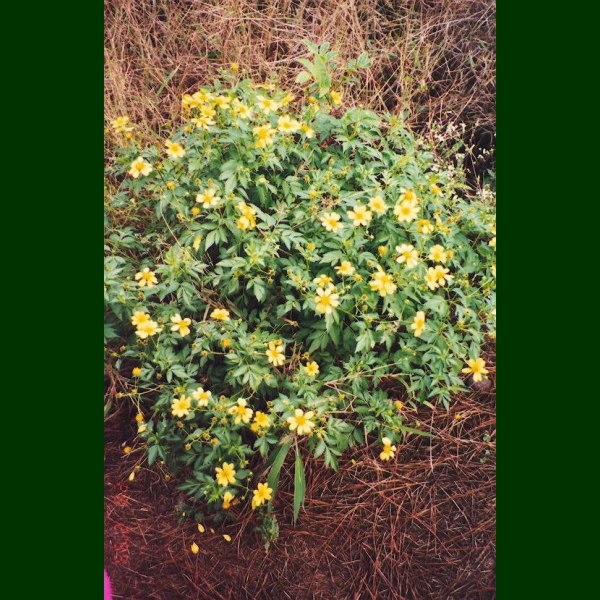 Hawaiian Name(s)
: ko'oko'olau, ko'olau
Scientific Name
: Bidens (19 species)
Vernacular Name
: none
Family
: Asteraceae
Status
: endemic
Authority
:
B. amplectens
Sherff,
B. asymmetrica
(H.Lev.) Sherff,
B. campylotheca
Schultz-Bip.,
B. cervicata
Sherff,
B. conjuncta
Sherff,
B. cosmoides
(A.Gray) Sherff,
B. forbesii
Sherff,
B. hawaiensis
A.Gray,
B. hillebrandiana
(Drake) O.Deg.,
B. macrocarpa
(A.Gray) Sherff,
B. mauiensis
(A.Gray),
B. menziesii
(A.Gray) Sherff,
B. micrantha
Gaudich.,
B. molokaiensis
(Hillebr.) Sherff,
B. populifolia
Sherff,
B. sandvicensis
Less.,
B. torta
Sherff,
B. valida
Sherff,
B. wiebkei
Sherff
Description
: Annual/perennial herbs or shrubs 0.1-4 m.
Habitat
Nineteen native species, habitats vary widely. Some species restricted to small populations on single island, others more widespread (Wagner
et al.
1990:267–283).
Medicines
: The entire ko'oko'olau plant is uses in the treatment of 'ea and pa'ao'ao. For adult, it is used in conjunction with 'uhaloa tap roots (
Waltheria indica
), the bark of 'ōhi'a 'ai root (
Syzygium malaccense
), kukui flowers (
Aleurites moluccana
), 'ala'alawainui pehu (
Peperomia
spp.), noni fruits (
Morinda citrifolia
), and kō kea (white sugracane,
Saccharum officinarum
). For cleansing or purification, as well as appetite restoration the leaves and leaf buds are used in conjunction with the flowere, leaves, and leaf buds of the ko'oko'olau (
Bidens
spp.), the fruit and leaf buds of the moa holokula (?), leaf bud and flowers of 'uhaloa, red lehua leaf buds (
Metrosideros
spp.), and kō honua'ula (red sugarcane). For illnesses classified as kohepopo (nae'oiku, papaku, hopilo, ke'ewai, wai'opua) the leaves, leaf buds, flowers, and roots are mixed with moa holokula fruit and leaves, leaves and flowers of 'ala'alawainui pehu, flowers and leaves of the 'ala'alawainui pohina (
Plectranthus parviflorus
), bark of 'ōhi'a 'ai, red lehua buds, kukui flowers and endosperm, noni fruits, kō kea, and ihi makole (
Oxalis corniculata
) (Chun 1994:160–162). Herbal teas made from leaves to treat throat and stomach troubles and for bad cases of asthma (Abbott 1992:02).
Non Medicinal Uses
: Leaves for tea (Abbott 1992:102).
Specific gravity of wood
: n/a
Famous Locations
:
Mele
: "Ho'oheno i na hala o Ko'oko'olau" line in "Hole Waimea" used as a place name in this instance, but the botanical significance needn't be ignored (Elbert & Mahoe 1970).
`Ōlelo Noeau
:
Dye Color and Parts
:
Kino lau
:
Location on Bishop Museum Kalihi Campus
:
Propagation Information
: Easy. [
B. aplectens
] Seeds/cuttings; plant seeds horizontally & slightly below surface of vermiculite, germinates in 2 weeks, water & fertilize regularly; pinch tips off for tea or to make plants bushy; sometimes not long-lived so may need to periodically replant (Culliney and Koebele 1999:93–96, see also
Bidens
sp. Bornhorst 1996:39–41; Nagata 1992:1993 addendum).
Hawaiian Native Plant Propagation Database
.
Native Plants Hawaii
.
Seed
: Seed length approximately 10 mm. Photograph: H.Lennstrom. Species:
B. sandvicensis
.
Click for image