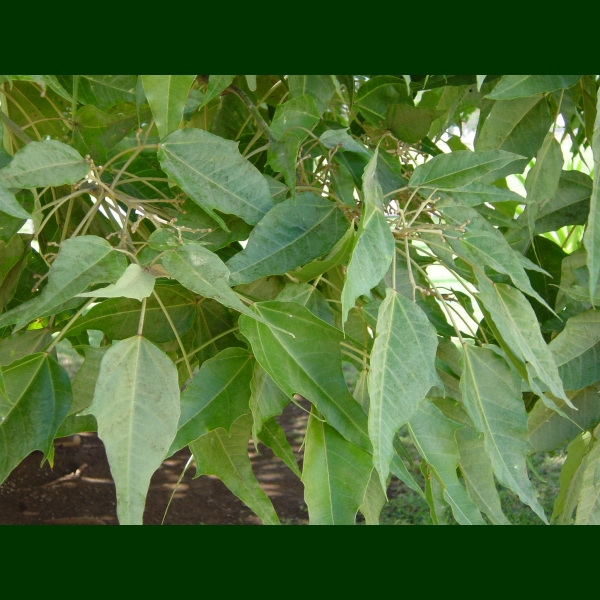 Hawaiian Name(s)
: kukui, kuikui
Scientific Name
: Aleurites moluccana
Vernacular Name
: candlenut, tung tree
Family
: Euphorbiaceae
Status
: Polynesian introduction
Authority
: (L.) Willd.
Description
: Trees, to 25 m tall, silvery-gray powder on leaves.
Habitat
Common in mesic valleys especially between 0–700 m on most main islands (Wagner
et al.
1990:598).
Medicines
: For 'ea and paa'ao'ao the flowers and endosperm (nut) of the kukui are combined with 'ala'alawainui pehu stems (
Peperomia
spp.), 'ohi'a 'ai bark (
Syzygium malaccense
), 'aka'akai 'oliana (?onion,
Allium cepa
) bulb, noni fruit (
Morinda citrifolia
), kō kea (white sugarcane,
Saccharum officinarum
), and possibly kikania (
Desmodium sandwicense
). Ingedients are mashed and strained, and liquid ingested. For infected sores, including puho 'a'ai, the green flesh of the kukui fruit is cooked in kī leaves (ti,
Cordyline fruticosa
) and combined with 'ulu sap (
Artocarpus altilis
), powdered 'ahu'awa (
Cyperus javanicus
), and powdered lama (
Diospyros
spp.); the mixture is applied as a salve. For forms of kohepopo (ke'a, kahaea, papaku, nae'oiku, wai'opua, hopilo, ni'au) kukui bark is combined with the bark of 'ohi'a 'ai and koa (
Acacia koa
), the leaf buds and stems of 'ala'alawainui pehu (
Peperomia
spp.), the leaves, flowers, and leaf buds of ko'oko'olau, kohekohe (
Eleocharis
spp.), noni fruits, root bark of the 'uhaloa (
Waltheria indica
), root bark of the pōpolo (
Solanum amerricanum
), and kō kea (white sugarcane,
Saccharum officinarum
). For pu'ao pehu the "shell" (endocarp) is burned and the smoke is used from inside an ipu.To build strength after an illness the endocarps (nut meat) are ground, along with cooked kalo (taro,
Colocasia esculenta
), the flesh of kikawaioa (fern,
Christella cyatheoides
), these are eaten with fish and 'uala poi (sweet potato,
Ipomoea batatas
) with a ko'oko'olau infusion. As a purge, the oil of the kukui endocarp is used, and followed by poi and pia (
Tacca leontopetaloides
) (Chun 1994:170–174).
Non Medicinal Uses
: The light-weight wood can be used for canoes (Abbott 1992:81; Malo 1951:21); the bark for dye and fruits and oil for light (Hillebrande 1888:400); "nuts" (oily endosperm) placed inside bamboo as
torch (kali kukui)
or oil burned in lamps (Abbott 1992:77), fish floats from wood (Degener 1930:197), oil for fishing, polishing; soot collected on smooth, clean pebbles under which kukui nuts had been burned for tattooing (Abbott 1992:128; Handy
et al.
1972:232), dye also from the fleshy part of the green part of fruit also for tattooing (not as good), the "meat" of the seed (endosperm) roasted and eaten as 'inamona relish (Handy
et al.
1972:231); endosperm also used in fish bait (Abbott 1992:85; Krauss 1993:45); sap as adhesive (Abbott 1992:120; Degener 1930:77), the oil as a polish (Krauss 1993:22), oil used to clean birdlime from bird's feet (Degener 1930:290), sticks burned in divining ceremony (Degener 1930:199). Used for hula altars (Pukui 1942); "nuts" for lei (Krauss 1993:79); wood for house timbers (Handy
et al.
1972:232). In the Ethnology Collection at Bishop Museum there are examples of kukui oil used to make
kapa
waterproof and there is a post-contact example of the wood made into a
bowl
.
Specific gravity of wood
: 0.35
Famous Locations
: Lanikaula, Kalanikaula, or Ulu-kukui-o-Lanikaula, Moloka'i (Pukui
et al.
1974:74–75).
Mele
: "'O ku'u pua kukui, aia i Lanikaula" line in "Moloka'i Nui a Hina" "Pilali kukui kau la'au" line in "Pa'ahana" (Elbert & Mahoe 1970).
`Ōlelo Noeau
: [I] A 'ea'e mohala i luna o ke kukui. Whiteness unfolds on the kukui trees. [II] Ahu a lala kukui. The kukui branches lay about in heaps. [III] 'A'ohe a'u 'ala 'inamona ia 'oukou. I do not find even the fragrance of roasted kukui nuts in you. [IV] E pu pa'akai aku a pa'a ka houpo. Take a bit of salt till the diaphragm is solid. [V] He ali'i no ka malu kukui. A chief of the kukui shade. [VI] He kanaka no ka malu kukui. A person from the kukui tree shade. [VII] He kiu ka pua kukui na ka makani. The kukui blossoms are a sign of wind. [VIII] He kumu kukui i he'e ka pilali. A kukui tree oozing with gum. [IX] He kumu kukui palahuli wale i ka makani Kona. A kukui tree, easily toppled over by the Kona wind. [X] Ka i'a ka'a poepoe o Kalapana, 'ina'i 'uala o Kaimu. The round, rolling fish of Kalapana, to be eaten with the sweet potato of Kaimu. [XI] Ka malu hälau loa o ke kukui. The long shelter of the kukui trees. [XII] Ka ulu kukui o Lanikaula. The kukui grove of Lanikaula. [XIII] Kukui-lau-nui-o-Kona. Thickly leafed kukui of Kona. [XIV] Pipili no ka pilali i ke kumu kukui. The pilali gum sticks to the kukui tree. [XV] Pupuhi kukui—malino ke kai. Spewed kukui nuts—calm sea. [XVI] Ua lilo i ke koli kukui a maluhi. Gone lamp–trimming until tired.[XVII] Ulu kukui o kaukaweli. Kukui grove of terror. [XVIII] Ulu kukui o Liliko'i. Kukui grove of Liliko'i.
Dye Color and Parts
: Greyish beige (fruit husk), brownish red (inner bark trunk), reddish brown (inner bark root)
Kino lau
: LONO.
Location on Bishop Museum Kalihi Campus
:
Propagation Information
: (Nagata 1992).
Seed
: Seed length approximately 30 mm. Photograph: H.Lennstrom.
Click for image
MicroscopyCross Section
: Field of view: 2.6 mm x 1.6 mm. Photograph: H.Lennstrom.
Click for image
Radial Section
: Field of view: 2.6 mm x 1.6 mm. Photograph: H.Lennstrom.
Click for image
Tangential Section
: Field of view: 2.6 mm x 1.6 mm. Photograph: H.Lennstrom.
Click for image