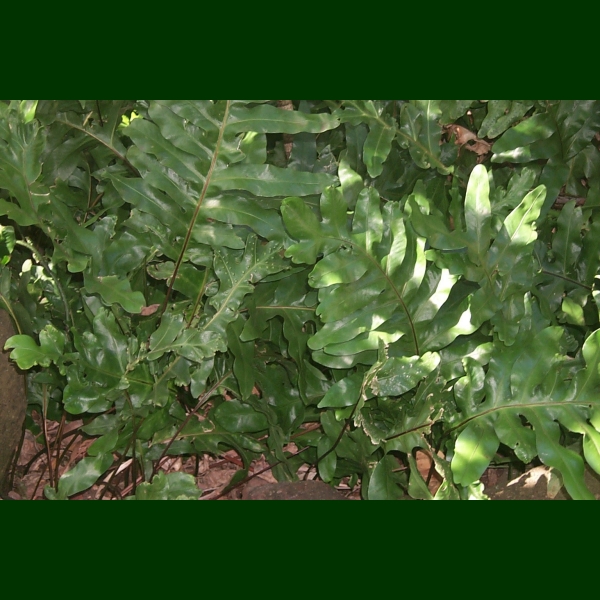 Hawaiian Name(s)
: laua'e
Scientific Name
: Phymatosorus grossus
Vernacular Name
: maile-scented fern
Family
: Polypodiaceae
Status
: Post-contact naturalized
Authority
: (Langsd. & Fisch.) Brownlie
Description
: Fern.
Habitat
This post-contact naturalized species is abundant in gardens and disturbed areas; from beaches to shaded mesic lowland forests and windswept ridges between 0–610 m (Valier 1995:34–35).
Medicines
:
Non Medicinal Uses
: Used for hula altars (kuahu) and as hula adornment (Pukui 1942), scenting kapa and for lei (Valier 1995:34–35)
Specific gravity of wood
: unknown
Famous Locations
: Makana, Hanalei, Kaua'i;
Mele
: "Laua'e 'a'ala o Makana" line in "He Inoa no Ka'iulani" "E ho'opili ana me ka laua'e" line in "Ka Ua Loku" "Ke 'ala laua'e, 'ea 'ea/ 'O ka pua mokihana, 'ea 'ea" line in "Na Hala o Naue" (Elbert & Mahoe 1970).
`Ōlelo Noeau
:
Dye Color and Parts
:
Kino lau
:
Location on Bishop Museum Kalihi Campus
: numerous places: the courtyard, next to upper parking lot
Propagation Information
: Laua'e can thrive in graden soil, potting mox, or uncut moss that is well-drained; moist to moist/dry. Lighting should be medium to high (Hoshizaki & Moran 2002:387).