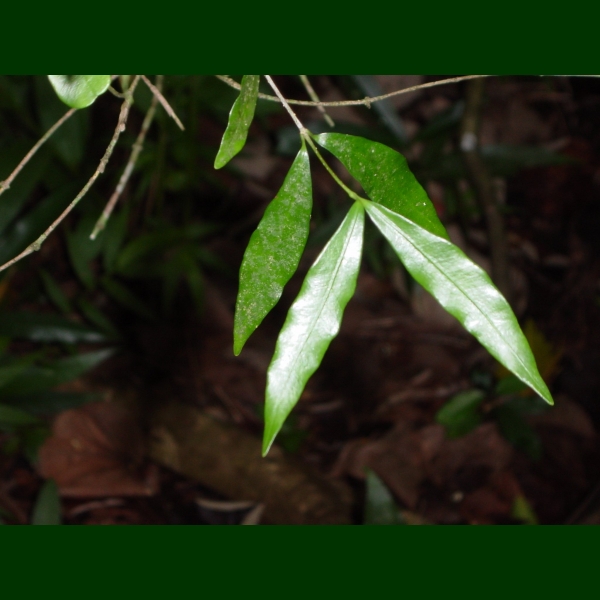 Hawaiian Name(s)
: maile
Scientific Name
: Alyxia stellata
Vernacular Name
: none
Family
: Apocynaceae
Status
: endemic
Authority
: (J.R.Forst. & G.Forst.) Roem. & Schult.
Description
: Twining liana or shrub.
Habitat
Found between 50–2000 m in diverse areas, from dry, open sites to dense wet forest (Wagner
et al.
1990:214–215).
Medicines
: To treat puho, puka puhi, kaupo and other cuts (na 'eha moku kukonukonu e a'e), combine chopped maile kaluhea, vines, tap root, 'auko'i stalks (
Senna ocidentalis
) and 'ahakea and koa bark (
Bobea
spp. and
Acacia koa
) into mash. The mash is mixed with water and heated. Then the liquid is used to clean the infected areas. For puholoholo (steam baths), varieties maile kuahiwi and maile hohono are combined with 'auko'i stalks and kupukupu hohono (cf.
Nephrolepis
spp.) (Chun 1994:211–213).
Non Medicinal Uses
: Fragrant leaves used for lei; offering at hula altar (kuahu) for the four Maile sisters (Maileha'iwale, Mailekaluhea, Mailelauli'i, Mailelaunui in Pukui 1942).
Specific gravity of wood
: unknown
Famous Locations
:
Mele
: "Hoa pili o maile-lau-li'i" line in "Lei 'Awapuhi" (Elbert & Mahoe 1970)
`Ōlelo Noeau
:
Dye Color and Parts
:
Kino lau
:
Location on Bishop Museum Kalihi Campus
:
Propagation Information
: Easy. Treated seeds sprout in 2-4 weeks, initial growth is slow, increases after 1-2 months; sensitive to soil type & companion plants; as plant grows larger it requires a cool, moist upland condition; prefers shade and rich organic soil, likes to grow on support (Bornhorst 1996:50–51; Culliney and Koebele 1999:105–107).
Hawaiian Native Plant Propagation Database
.
Native Plants Hawaii
.
Seed
: Seed length approximately 8-10 mm. Photograph: H.Lennstrom.
Click for image