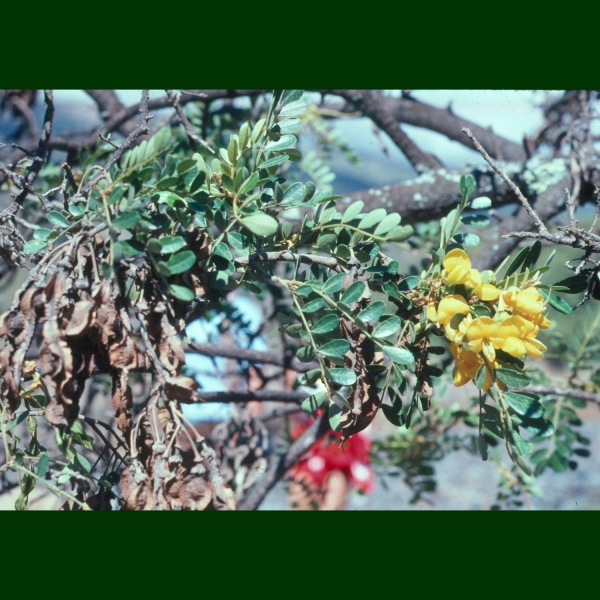 Hawaiian Name(s)
: māmane, mamani
Scientific Name
: Sophora chrysophylla
Vernacular Name
: none
Family
: Fabaceae
Status
: endemic
Authority
: (Salisb.) Seem.
Description
: Shrubs or trees up to 15m tall.
Habitat
Dry shrubland & forest to mesic or rarely wet forest, formerly in subalpine vegatation 450–3240 m on most main islands (Wagner
et al.
1990:706).
Medicines
:
Non Medicinal Uses
: Wood for thatching poles up to a five cm diameter (Abbott 1992:68) and spears. Used wood for 'o'o, sled runners (Lamb 1981:50–51; Malo 1951:21). Good firewood (wahie) (Kamehameha Schools 1994:26)
Specific gravity of wood
: unknown
Famous Locations
:
Mele
: 'Ke ko'olau 'o ka pua māmane, i ka la, E ake no a ma'u i ka wai o ka naulu' line in "Maika'i Ka'uiki" (Pukui 1995:164)
`Ōlelo Noeau
:
Dye Color and Parts
:
Kino lau
:
Location on Bishop Museum Kalihi Campus
:
Propagation Information
: Easy. Seeds are scarified & soaked; germinate in 1-2 weeks; young māmane, grow vigorously but should be protected from intense, direct sunlight, strong winds & heavy rains until they are 20 cm tall; thrives on lots of sunshine; hosts nitrogen-fixing bacteria (Culliney and Koebele 1999:107–109).
Hawaiian Native Plant Propagation Database
.
Native Plants Hawaii
.