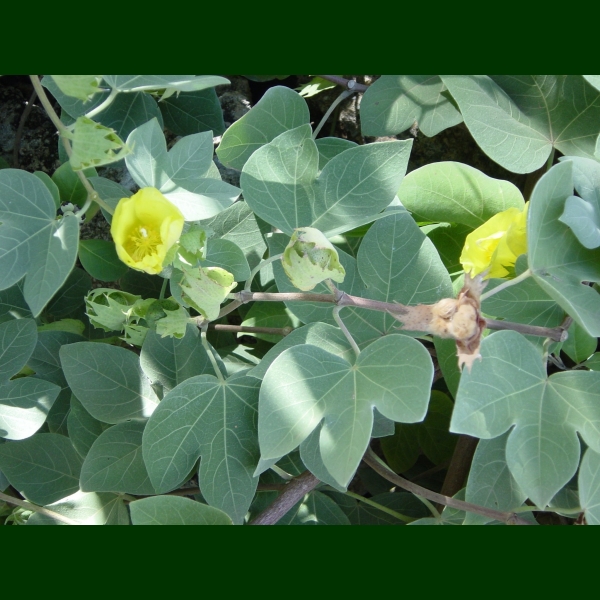 Hawaiian Name(s)
: ma'o, huluhulu
Scientific Name
: Gossypium tomentosum
Vernacular Name
: Hawaiian cotton
Family
: Malvaceae
Status
: endemic
Authority
: Nutt. ex Seem.
Description
: Shrubs 0.5-1.5 m tall.
Habitat
Found on arid coastal plains on rocky or clay substrates up to 120 m on most main islands (Wagner
et al.
1990:876).
Medicines
: For treating the illness nahu'aki o ka opu mai na makua mai ("gripping stimach ache"). To prepare, one needs to dry the flowers of ma'o, nohu (
Tribulus cistoides
), 'ilima (
Sida fallax
), and pua aloalo (cf.
Hibiscus arnottianus
) in the sun on niu (coconut,
Cocos nucifera
). The tap roots of ma'o, 'uhaloa (
Waltheria indica
), pōpolo (
Solanum americanum
), 'ohi'a 'ai (
Syzygyium malaccense
), kō honua'ula (red sugarcane,
Saccharum officinarum
), and koali (
Ipomoea
spp.) are mashed and heated into a liquid form. The dried leaves are drunk with the liquid mixture (Chun 1994: 217–218).
Non Medicinal Uses
: Flowers for yellow dye and leaves for green dye for kapa (Abbott 1993:66).
Specific gravity of wood
: unknown
Famous Locations
:
Mele
:
`Ōlelo Noeau
:
Dye Color and Parts
: Greenish (leaves), yellow (petals)
Kino lau
:
Location on Bishop Museum Kalihi Campus
: Near the Castle Bldg
Propagation Information
: Easy. Presoaked seeds sprout in a few days; young seedlings with few leaves can be transplanted into the ground, need partial shade & careful watering for a few weeks but then thrive in full sunlight; wide range of soils with good drainage; flowers in 2 years (Bornhorst 1996:39; Bornhorst and Rauch 1994:10–11; Culliney and Koebele 1999:109–112).
Hawaiian Native Plant Propagation Database
.
Native Plants Hawaii
.
Seed
: Seed length approximately 10 mm. Photograph: H.Lennstrom
Click for image