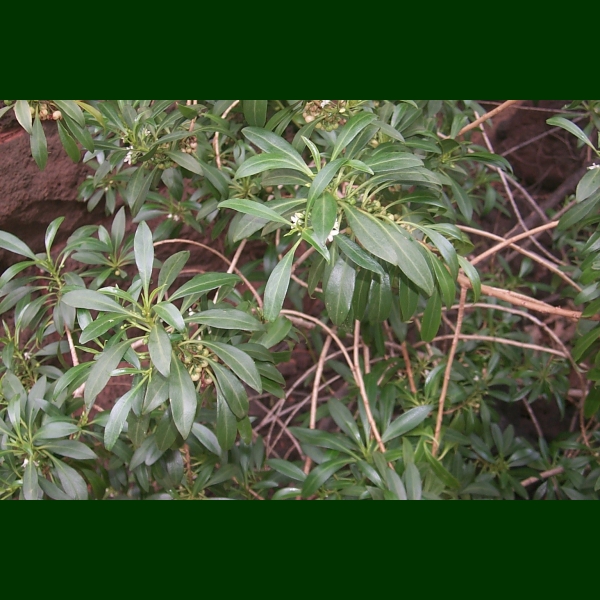 Hawaiian Name(s)
: naio, naeo, naieo
Scientific Name
: Myoporum sandwicense
Vernacular Name
: false sandalwood, bastard sandalwood
Family
: Scrophulariaceae
Status
: indigenous
Authority
: A.Gray
Description
: Shrub/small tree 1-15 m tall.
Habitat
M. sandwicensis
occurs a number of different habitats from strand vegetation, to dry forest, lava flows, mesic to wet forest, & in subalpine forest 0-2380 m (Wagner
et al.
1990:928–929).
Medicines
: To treat nae kulou and waiopua paa, or stubborn case of asthma, 'ākia manalo leaves (
Wikstroemia
spp.), naio leaf buds and leaves, the bark of ohi'a ai (
Syzygium malaccense
) and hi'aloa ('uhaloa,
Waltheria indica
) tap roots, dried niu (coconut,
Cocos nucifera
), and kō aina kea (sugarcane,
Saccharum officinarum
) are pounded into a mash and the mixture is strained with ahu'awa (
Cyperus javanicus
). The liquid is drunk cold for five days, twice a day. (Chun 1994:23-25). For the illness ma'i hemo keiki o na wahine hanau nui I ke keiki (child birth of women who have had many children) hala aerial roots (
Pandanus tectorius
), niu, kohekohe (
Eleocharis
spp.), hala leaf buds, ala'alawainui pehu stems (
Peperomia
spp.), 'ihi makole (
Oxalis
spp.) and naio leaf buds, fruit and leaves, kukui flowers (
Aleurites moluccana
), noni fruits (
Morinda citrifolia
), and kō kea (white sugarcane,
Saccharum officinarum
) are pounded into a mash and strained with 'ahu'awa. The liquid mixture is heated. Once cool, the medicine is taken two times a day, once in the morning and again in the evening (Chun 1994: 73-74).
Non Medicinal Uses
: Wood has odor similar to sandalwood (Degener 1930:267). Used for house posts (Degener 1930:268; Krauss 1993:56). Burns well and long, used for torches (Lamb 1981:127). Wood used for fish net gauge (haha ka 'upena) (Krauss 1993:35). In the Ethnology Collection at Bishop Museum there is a post-contact example of the wood made into a
bowl
.
Specific gravity of wood
: 0.55
Famous Locations
:
Mele
:
`Ōlelo Noeau
:
Dye Color and Parts
: Pink, white (flowers)
Kino lau
:
Location on Bishop Museum Kalihi Campus
: courtyard
Propagation Information
: Easy. Presoaked seeds buried 1 cm below moist vermiculite, germinates in 2 weeks with bright light, water/mist regularly, transfer to individual pots when leaves appear & fertilize lightly; rapid growth, pruning should only be done in vigorous state of growth, also grows from cuttings (Bornhorst 1996:42–43; Bornhorst and Rauch 1994:11–12; Culliney and Koebele 1999:114–117; Nagata 1992).
Hawaiian Native Plant Propagation Database
.
Native Plants Hawaii
.
MicroscopyCross Section
: Field of view: 2.6 mm x 1.6 mm. Photograph: H.Lennstrom
Click for image
Radial Section
: Field of view: 2.6 mm x 1.6 mm. Photograph: H.Lennstrom
Click for image
Tangential Section
: Field of view: 2.6 mm x 1.6 mm. Photograph: H.Lennstrom
Click for image