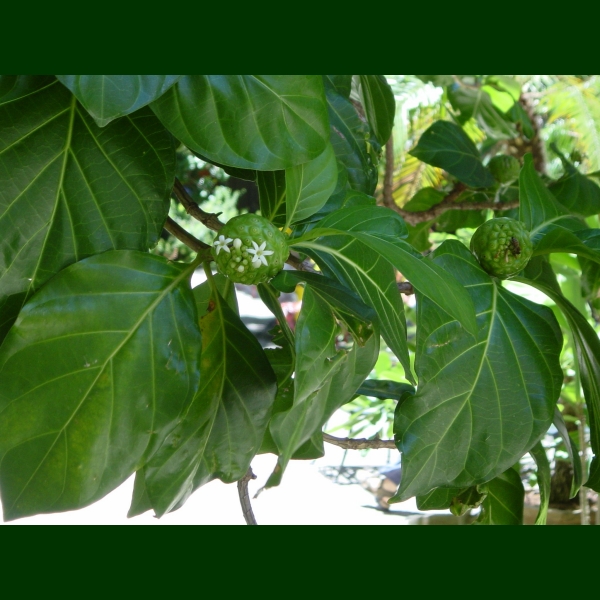 Hawaiian Name(s)
: noni
Scientific Name
: Morinda citrifolia
Vernacular Name
: Indian mulberry
Family
: Rubiaceae
Status
: Polynesian introduction
Authority
: L.
Description
: Small trees/shrubs, to 5 m tall.
Habitat
Cultivated and naturalized in dry to mesic sites, distubed hala forest, alien grasslands 0–450 m (Wagner
et al.
1990:1157).
Medicines
: Noni is considered a very important medicinal plant. Boils are treated with the open, immature noni fruit applied topically. Boils, bruises, sores, and wounds are treated with leaves that have been burned or mashed. Concussions treated with a mashed, green noni fruit. For cuts, the stem bark is ulitized. For broken bones, the green fruit are mashed and combined with salt as a topical medication. Root sap is used to treat skin eruptions (Abbott 1992:99–100). Today it is used as a tonic for a wide variety of illnesses.
Non Medicinal Uses
: The inner bark of the trunk and roots used for
yellow and red dyes
(Krauss 1993:66). Fruit can be eaten raw or cooked (Krauss 1993:16; Malo 1951:22). Oil extracted from fruit used on hair (Rock 1913:467). In the Ethnology Collection at Bishop Museum there is a post-contact example of the wood made into a
bowl
.
Specific gravity of wood
: unknown
Famous Locations
:
Mele
: "'Ono'onou 'ia i ka hua noni" line in "Moanalua" (Elbert & Mahoe 1970:77–78).
`Ōlelo Noeau
: He noni no Kaualehu, he puhai a'a. It is a noni tree of Kaualehu whose roots are in shallow ground. Said of a person whose knowledge is shallow. The noni root from shallow ground does not make as good a dye as that from deep ground.
Dye Color and Parts
: Yellow; red** (inner bark of trunk & root) ** w/lime added
Kino lau
:
Location on Bishop Museum Kalihi Campus
: In courtyard
Propagation Information
: