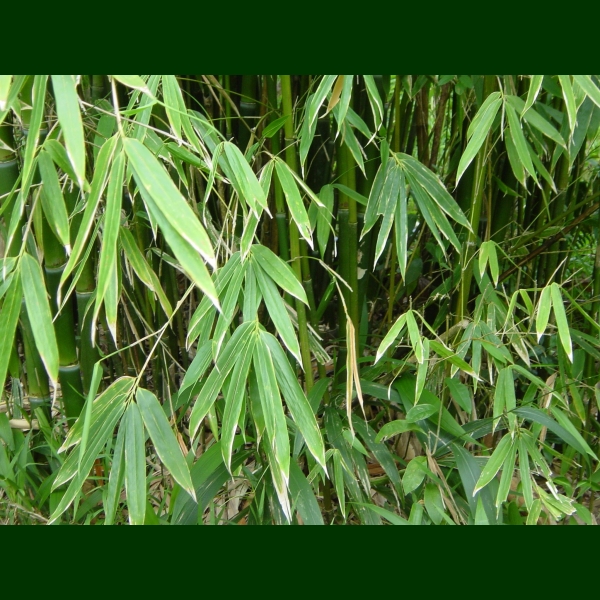 Hawaiian Name(s)
: 'ohe
Scientific Name
: Schizostachyum glaucifolium
Vernacular Name
: native bamboo, Polynesian bamboo
Family
: Poaceae
Status
: Polynesian introduction
Authority
: (Rupr.) Munro
Description
: Large, arborescent grass with hardned culms (stalks), forming large clumps/small groves 9-12 m tall.
Habitat
Occurs in mesic valleys in shaded habitats along streams between 60–275 m on some main islands (Wagner
et al.
1990:1591).
Medicines
: As a treatment for kolekole 'a'ai (festering raw sores), puho (abcesses), and pu'upu'u nunui, the ashes of the 'ohe are combined with powdered 'ahu'awa (
Cyperus javanicus
) and lama (
Diospyros
spp.), as well as the sap of green kukui fruits (
Aleurites moluccana
) and ripe milikana (papaya,
Carica papaya
); this is applied topically. For a sharp pain in the stomach and pain associated with profuse sweating, powdered 'ohe os mixed with water and consumed (Chun 1994:223).
Non Medicinal Uses
: The long, hollow culms (stalks) of the 'ohe were used in numerous ways. As musical instruments: the
ka'eke'eke
are lengths of 'ohe struck on the ground to produce a hollow deep sound (Krauss 1993:81) and short lengths with nodes also used for
'ohe hano ihu (nose flutes)
(Buck 1964:390–391). Also, pieces with nodes (40-60 cm long) were used to make
pu'ili (split-bamboo rattles)
used in hula (Abbott 1992:120; Krauss 1993:81). Frame for houses, fishing rods, racing sleds, used as irrigation pipes, used to make knives and needles,
kapa design sticks (lapa)
and
stamps ('ohe kalapa)
(Abbott 1993:52–54; Lucas 1982: 13). In net-making, 'ohe can be used for
net spacers
and
net shuttles or hi'a ka 'upena
(Krauss 1993:35).
Specific gravity of wood
: unknown
Famous Locations
: Kuikuilaumania/Homaikaohe (Hilo): fine, large ohe, used particularly for cicumcising; Halai (Hilo)- used for fishing rods.
Mele
:
`Ōlelo Noeau
:
Dye Color and Parts
:
Kino lau
: Kāne
Location on Bishop Museum Kalihi Campus
:
Propagation Information
: