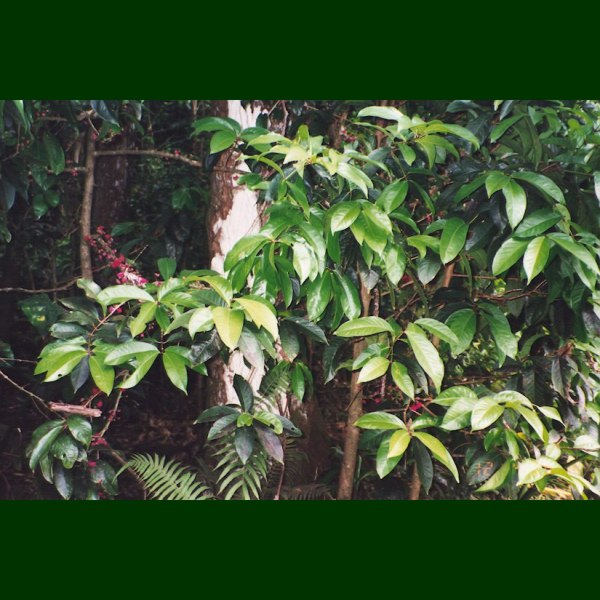 Hawaiian Name(s)
: 'ōhi'a 'ai, 'ōhi'a, 'ōhi'a 'ai ke'oke'o, 'ōhi'a hākea, 'ōhi'a kea, 'ōhi'a leo, 'ōhi'a 'ula
Scientific Name
: Syzygium malaccense
Vernacular Name
: mountain apple, Malay apple
Family
: Myrtaceae
Status
: Polynesian introduction
Authority
: (L.) Merr. & Perry
Description
: Tree, to 20 m tall.
Habitat
Occuring most commonly in mesic valleys at low elevations at mesic to wet sites mesic to wet sites between 200–310 (–550) m (Wagner
et al.
1990:975–976).
Medicines
: The bark is pounded with salt and strained through a niu leaf sheath (coconut,
Cocos nucifera
) for a topical medicine for open and deep cuts. For 'ea (thrush) and pa'ao'ao the bark, leaves, and leaf buds are combined with kukui flowers (
Aleurites moluccana
), flowers, leaf buds, and leaves of the hinahina ku kahakai (
Heliotropium anomalum
var.
argenteum
), 'aka'akai 'oliana bulbs (
Allium cepa
), leaves, leaf buds and flowers of the 'uhaloa (
Waltheria indica
), and kō honua'ula (red sugarcane,
Saccharum officinarum
),. The mixture is strained through the 'ahu'awa (
Cyperus javanicus
) and drunk. Foods suitable to consume while using this medicine are fish, lu'au, kukui, 'uala (sweet potato,
Ipomoea batatas
), and fresh poi. For hauna o ka waha (bad breath) and waha pala (coated mouth), the bark is combined with moa holokula (cf.
Psilotum nudum
) and kō kea (white sugarcane) (Chun 1994:225–226). The bark chewed for a sore throat. Leaves were crushed and ingested for bronchitis (Abbott 1992:101). It is a secondary ingredient in numerous other medications (see other plants)
Non Medicinal Uses
: Fruit eaten (Lucas 1982:58; Malo 1951:21). Used at hula altars (kuahu) (Emerson 1909:19). Dyes made from inner bark of trunk and root (brown) as well as the fruit skin (red) (Krauss 1993:66). Wood for posts, house rafters, and enclosures for heiau (Wagner
et al.
1990:976), as well as being used for carved idols (Rock 1913:321). In the Ethnology Collection at Bishop Museum there is a post-contact example of the wood made into a
bowl
.
Specific gravity of wood
: unknown
Famous Locations
:
Mele
:
`Ōlelo Noeau
: [I] Ka ua ho'opala 'ōhi'a. The rain that ripens the mountain apples. The rain that comes just as the mountain apple is beginning to ripen. [II] Nawele ka maka o Hinaulu'ohi'a. Pale is the face of Hinaulu'ohi'a. Said of the pink rim around the blossom end of the white mountain apple. Refers to the goddess Hina. [III] 'Ōhi'a noho malu. Mountain apple in the shade. Said of a beautiful or handsome person, who is compared to a mountain apple that ripens to perfection in the shade. [IV] O Hinaia'ele'ele ka malama, 'aluka ka pala a ka 'ōhi'a. Hinaia'ele'ele is the month when the mountain apples ripen everywhere.
Dye Color and Parts
: Brown (inner bark of trunk, root), red (fruit skin)
Kino lau
:
Location on Bishop Museum Kalihi Campus
:
Propagation Information
:
Seed
: Seeds 25–35 mm. Photograph: H.Lennstrom.
Click for image
MicroscopyCross Section
: Field of view: 2.6 mm x 1.6 mm. Photograph: H.Lennstrom.
Click for image
Radial Section
: Field of view: 2.6 mm x 1.6 mm. Photograph: H.Lennstrom.
Click for image
Tangential Section
: Field of view: 2.6 mm x 1.6 mm. Photograph: H.Lennstrom.
Click for image