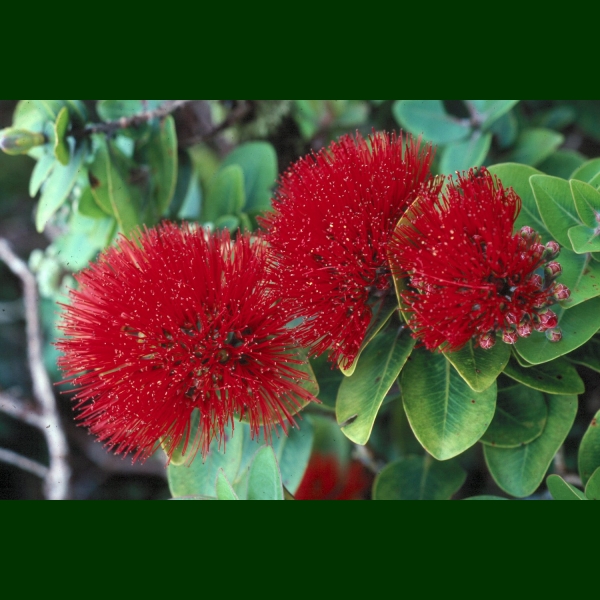 Hawaiian Name(s)
: 'ōhi'a lehua, lehua, 'ōhi'a (many more specific names for blossom colors, etc.)
Scientific Name
: Metrosideros (2 species)
Vernacular Name
: none
Family
: Myrtaceae
Status
: endemic
Authority
:
M. polymorpha
Gaudich.,
M. macropus
Hook. & Arn.
Description
: Shrub/tree, to 100 ft.
Habitat
M. polymorpha
(the more common species) is found in a wide variety of habitats (early successional species on lava, shrublands, mesic to wet forest) between 0–2200 m on most main islands;
M. macropus
on O'ahu only (Wagner
et al.
1990:966–967)
Medicines
: The flower of the "'ōhi'a a-pane" is used as a medicine for childbirth. Also the young leaf buds are used to treat muhe'e kea (pale) in babies (Chun 1998:43)
Non Medicinal Uses
: Wood for images (ki'i), posts and rafters, fences for temples, firewood, canoes (Malo 1951:20), construction of luakini heiau (Malo 1951:159), flowers and young leaf buds for lei (Abbott 1992:126–127); bowls (but difficult to work, see Abbott 1992:87). Placed on hula altars for Kuka'ohi'a Laka (Abbott 1992:117). Musical instruments (Krauss 1993:80). In the Ethnology Collection at Bishop Museum there is a post-contact example of the wood made into a
bowl
.
Specific gravity of wood
: 0.70
Famous Locations
:
Mele
: "Pua 'ahihi lehua o uka" line in "Aloha 'Oe" "Hilo, i ka uluwehiwehi o ka lehua" line in "Hilo March" There are numerous references in "Manu 'o'o" "A 'ike i ka lehua, 'ea 'ea/ Miki'ala i laila, 'ea 'ea" line in "Na Hala o Naue" "Pua mai ka lehua" line in "Puna Paia 'A'ala" (Elbert & Mahoe 1970).
`Ōlelo Noeau
: [I] Ka 'ōhi'a hihipe'a o Kealakomo. The entwining 'ōhi'a branches of Kealakomo. Kealakomo, in Puna, Hawai'i, where the 'ōhi'a trees grow thickly together. [II] Ke uwe nei ka 'ōhi'a o Kealakona. The 'ōhi'a wood of Kealakona weeps [for you]. Uttered as a taunt by Mahihelelima, powerful warrior of Maui, when he sent his slingshots towards the warriors of Hawai'i under Pi'imaiwa'a. 'Ōhi'a logs from Kealakona were used for the fortress on Ka'uiki, where Maui warriors fought the invaders. Later used to mean, "We are prepared to defend ourselves and we are sorry for you if you try and fight us." [III] Welehu ka malama, liko ka 'ōhi'a. Welehu is the month [when] the 'ōhi'a trees are putting forth leaf buds. [IV] E aka ana e inu i ka wai hu o Ko'olihilihi. Eager to drink of the gushing spring of Ko'olihilihi. Eager to make love. Ko'olihilihi (Prop-eyelashes) is a spring in Puna. When royal visitors were expected, the people attached lehua blossoms to the makaloa sedge that grew around the spring so that when their guests stooped to drink, the lehua fringes touched their cheeks and eyelashes. The person for whom the spring was bedecked was Keohokalole, mother of Lili'uokalani. [V] E mana'o a'e ana e lei i ka lehua o Mokaulele. A wish to wear the lehua of Mokualele in a lei. A wish to win a maiden. Lei symbolizes sweetheart, and lehua, a pretty girl.[VI] He kai lu leua ko Pana'ewa. Pana'ewa shakes down the lehua fringes into the sea. Once, when the forest of Pana'ewa extended to the sea, fringes of lehua blossoms were seen floating about in the water. [VII] He kumu lehua muimui i ka manu. A lehua tree covered with birds. An attractive person. A lehua tree in bloom attracts birds as an attractive person draws the attention of others. [VIII] He la'au ku ho'okahi, he lehua no Ka'ala. A lone tree, a lehua of Ka'ala. An expression of admiration for an outstanding person, unequaled in beauty, wisdom, or skill. [IX] Hele a noho i ka wai. He looks red in the water. He is as attractive as the fringes of lehua floating in the water. [X] He lehua nene'e wale i Hopoe. A low spreading lehua tree at Hopoe. A petite person, as pretty as small, flower-laden tree. [XI] He maoli pua lehua o ka wekiu. An attractive lehua blossom on the topmost branch. An attractive person. [XII] Hilo i ka ua Kanilehua. Hilo of the Kanilehua rain. The Kanilehua rain, or the rain that patters in the lehua forest, is frequently referred to in chants and songs of Hilo. [XIII] Hilo, nahele paoa i ke 'ala. Hilo, where the forest is imbued with fragrance. Hilo's forest is fragrant with hala and lehua blossoms. [XIV] Ho'i ka 'o'opu 'ai lehua i ka mapunapuna. The lehua-eating 'o'opu has gone back to the spring. Said of one who has gone back to the source. [XV] Ho'ohu'a Hilo o ka lehua. Hilo produces lehua in abundance. [XVI] I mohala no ka lehua i ke ke'eke'ehi 'ia e ka ua. Lehua blossoms unfold because the rains tread upon them. It is the rian that brings forth the lehua blossoms. So do gentle words bring forth much that is desired. [XVII] I walea ka manu i ka 'ula o ka lehua. The bird is attracted by the redness of the lehua. The youth is attracted by the charm of another. [XVIII] Ka lehua nene'e o Ka'ana. The low-growing lehua of Ka'ana. Refers to Ka'ana, Moloka'u. Often mentioned in chants of Moloka'i, the lehua of Ka'ana were loved by the goddess Kapo. This lehua grove was destroyed by introduced animals. The first or one of the first hula schools in the islands is said to have been located at Ka'ana. [XIX] Ka makani hali 'ala o Puna. The fragrance-bearing wind of Puna. Puna, Hawai'i, was famed for the fragrance of maile, lehua, and hala. It was said that when the wind blew from the land, fishermen could smell the fragrance of these leaves and flowers. [XX] Ka nalu ha'i o Kalehuawehe. The rolling surf of Kalehuawehe. Ka-lehua-wehe (Take-off-the-lehua) was Waikiki's most famous surf. It was so named when a legendary hero took off his lei of lehua blossoms and gave it to the wife of the ruling chief, with whom he was surfing. [XXI] Ka ua Kanilehua o Hilo. The Kanilehua rain of Hilo. Hilo, where the rain moistens the lehua blossoms. [XXII] Ka ua kiawe lehua o Hopoe. The rain that sets the lehua of Hopoe to swaying. When the rain patters down, the lehua of Hopoe, Puna, gently sway to and fro. [XXIII] Ka ua kihene lehua o Hamakua. The rain that produces the lehua clusters of Hamakua. [XXIV] Ka ua kinai lehua o Pana'ewa. The rain that bruises the lehua blossoms of Pana'ewa. Both lehua and rain are commonly found in Pana'ewa. [XXV] Ka ua Lililehua o Ka'anapali. The Tiny-drops-on-the-lehua rain of Ka'anapali. [XXVI] Ka ua lu lehua o Pana'ewa. The lehua-shedding rain of Pana'ewa. The heavy rain of the lehua forest of Pana'ewa in Hilo, Hawai'i. Famed in chants of old. [XXVII] Ka ua moaniani lehua o Puna. The rain that brings the fragrance of the lehua of Puna. Puna is known as the land of fragrance. [XXVIII] Ka ua Noelehua o Wai'ale'ale. The Misty-lehua rain of Wai'ale'ale. The rain of Wai'ale'ale that moistens the lehua blossoms there. [XXIX] Kauwa ke aloha i na lehua o Ka'ana. Love is a slave to the lehua blossoms of Ka'ana. Ka'ana is a place between Kea'au and 'Ola'a where travelers used to rest and make lei of lehua. It took many blossoms and much patience to complete a lei. The lei was later given to a loved one. [XXX] Ke kai kua'au lehua o Pana'ewa. The sea where lehua fringes float about in the shallows. Long ago, when lehua trees grew down to the shore at Puna and Hilo, the fringes of the flowers often fell into the sea, reddening the surface. [XXXI] Lei Hanakahi i ke 'ala me ke onaona o Pana'ewa. Hanakahi is adorned with the fragrance and perfume of Pana'ewa. The forest of Pana'ewa was famous for its maile vines and hala and lehua blossoms, well liked for making lei, so Hilo (Hanakahi) was said to be wreathed in fragrance. [XXXII] Ma'ema'e Puna i ka hala me ka lehua. Lovely is Puna with the hala and the lehua. Refers to Puna, Hawai'i. [XXXIII] Maka'u ke kanaka i ka lehua. Man is afraid of the lehua. When going out of the uplands one is warned not to pluck lehua blossoms, lest it rain. Only when one is going out of the upland region is it permissible to pluck flowers. So the mountaingoer is said to fear the lehua. [XXXIV] Na lehua o Lihau i pehia e ka noe. The lehua blossoms of Lihau, weighed by the mist. Lihau, a mountain of Maui, was noted for its beautiful lehua blossoms. [XXXV] Na lehua o Lulu'upali. The lehua blossoms of Lulu'upali. Famed in songs of Kaua'i were the lehua blossoms of Lulu'upali. [XXXVI] Na lehua o Mokaulele. The lehua blossoms of Mokaulele. The lehua blossoms of Mokaulele, Hilo, are famed in legends and chants. [XXXVII] Na lehua puakea o Ninauapo. The white lehua blossoms of Ninauapo. White lehua blossoms flourished as Ninauapo in Manoa, O'ahu. [XXXVIII] Na manu leo nui o Pana'ewa. Loud-voiced birds of Pana'ewa. Loud talkers. Pana'ewa, Hilo, was famous for its lehua forests that sheltered the honey-sucking birds. Here people went to gather lehua and maile. [XXXIX] Nani Puna po i ke 'ala. Beautiful Puna, heavy with fragrance. Praise for Puna, Hawai'i, where the breath of maile, lehua, and hala blossoms are ever present. [XL] 'Ohu'ohu Halemano i ka lau lehua. Bedecked is Halemano with lehua leaves. An expression of admiration for a good-looking person. [XLI] Ola aku la ka 'aina kaha, ua pua ka lehua i kai. Life has come to the kaha lands for the lehua blooms are seen at sea. "Kaha lands" refers to Kekaha, Kona, Hawai'i. When the season for deep-sea fishing arrived, the canoes of the expert fishermen were seen going and coming. [XLII] 'Opihi kauwawa lehua o Hopoe. 'Opihi covered by the lehua blossoms of Hopoe. The fringes of lehua at Hopoe fall into the sea, and are washed up over the rocks, hiding the 'opihi. [XLIII] Pua ka lehua. The lehua is in bloom. Said by the people of Kawaihae when the aku fish appear in schools. It was considered unlucky to speak openly of going fishing. [XLIV] Pua lehua i ka lawai'a. A lehua blossom in fishing. An expert in catching fish. [XLV] Pua mai nei ho'i ka lehua. The lehua is blossoming. The faces are red from drinking beer. [XLVI] Puna paia 'ala i ka hala. Puna, with walls fragrant with pandanus blossoms. Puna, Hawai'i, is a place of hala and lehua forests. In olden days the people would stick the bracts of the hala into thatching of their houses to bring some fragrance indoors.
Dye Color and Parts
: Red, yellow, pink, white, orange (flowers), green, purplish, reddish, grey, shiny, hairy (leaves)
Kino lau
: KANE. KU. PALILA. LAKA.
Location on Bishop Museum Kalihi Campus
: in small garden off courtyard
Propagation Information
: Collect fresh unsoaked seeds, sprinkle onto firm, moist potting medium and water daily for the 1st year, fertilize monthly; 2 foot plant can be grow in 1 year; use sterile potting soil, not dirt; strong 6-12 inch can be planted in ground. Also by cuttings and air layering (Bornhorst 1996:61–64; Bornhorst and Rauch 1994:16–17; Nagata 1992).
Hawaiian Native Plant Propagation Database
.
Native Plants Hawaii
.
Seed
: Seed length approximately 1.3-2 mm. Photograph: B.Kennedy. Species:
M. polymorpha
.
Click for image
MicroscopyCross Section
: Field of view: 2.6 mm x 1.6 mm. Photograph: H.Lennstrom. Species:
M. polymorpha
.
Click for image
Radial Section
: Field of view: 2.6 mm x 1.6 mm. Photograph: H.Lennstrom. Species:
M. polymorpha
.
Click for image
Tangential Section
: Field of view: 2.6 mm x 1.6 mm. Photograph: H.Lennstrom. Species:
M. polymorpha
.
Click for image