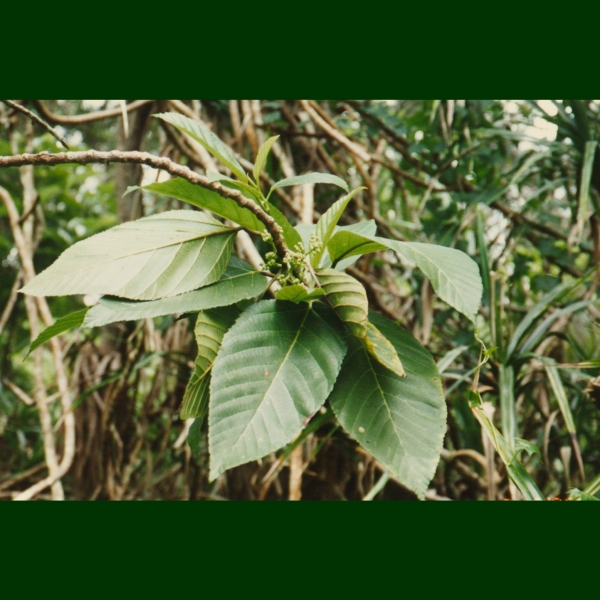 Hawaiian Name(s)
: ūpuhe, hūpue (
U. glabra
), hona (
U. glabra
)
Scientific Name
: Urera (2 species)
Vernacular Name
: none
Family
: Urticaceae
Status
: endemic
Authority
:
U. glabra
(Hook. & Arn.) Wedd.,
U. kaalae
Wawra
Description
: Shrubs or small trees, 2-8 m tall.
Habitat
U. glabra
found in mesic to wet forest and diverse mesic forest on slopes and bottoms of gulches 150–1700 m (Kaua'i, O'ahu, Moloka'i, Maui, Lāni'i, Hawai'i),
U. kaalaeis
rare in mesic forests in gulches and slope 300–760 m (O'ahu) (Wagner
et al.
1990:1312–1314).
Medicines
: For the treatment of lepo pa'a (constipation), the flowers, leaf bud, and tap root of hapue (
Urera glabra
) and maaloa (Neraudia spp.) are mixed with 'akoko leaves and leaf buds (Chamaesyce spp.), and kō kea (white sugarcane,
Saccharum officinarum
).These are pounded into a liquid and then strained with 'ahu'awa (
Cyperus javanicus
), and mixed with pia (
Tacca leontopetaloides
) and stirred. The liquid medicine is drunk and followed by broiled lu'au and 'uala (sweet potato,
Ipomoea batatas
) (Chun 1994:80).
Non Medicinal Uses
: Fibers of the inner bark used for
cordage
to make fishnets and occasionally for tapa cloth (Funk 1979; Malo 1951:22; Rock 1913:121; Summers 1990:66).
Specific gravity of wood
: unknown
Famous Locations
:
Mele
:
`Ōlelo Noeau
:
Dye Color and Parts
:
Kino lau
:
Location on Bishop Museum Kalihi Campus
:
Propagation Information
:
Seed
: Seed length approximately 0.8 mm. Photograph: B.Kennedy. Species:
U. glabra
.
Click for image