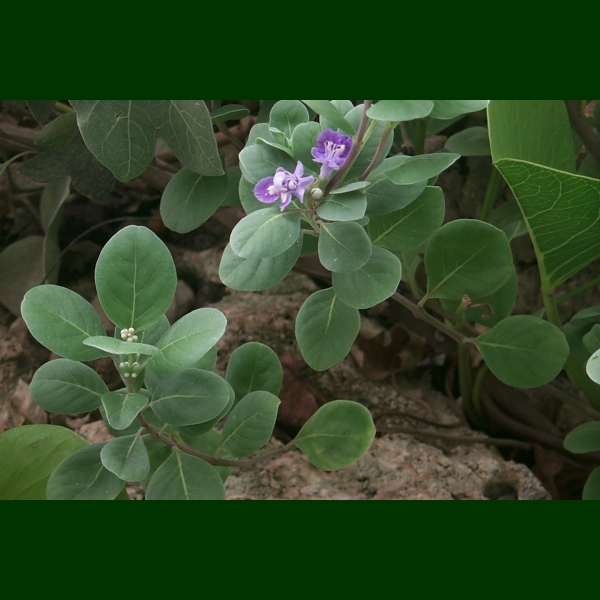 Hawaiian Name(s)
: pōhinahina, kolokolo kahakai, hinahina kolo, manawanawa, mawanawana, polinalina (Oahu)
Scientific Name
: Vitex rotundifolia
Vernacular Name
: beach vitex
Family
: Verbenaceae
Status
: indigenous
Authority
: L. fil.
Description
: Low, branched shrubs, forming mats several meters in diameter with reddish-black fruit; 6 in.–2 ft tall.
Habitat
V. rotundifolia
occurs on coastal sites such as sandy beaches, rocky shores, and dunes from 0–15 m (Kaua'i, Ni'ihau, O'ahu, Moloka'i, Maui, Lāni'i, Hawai'i) (Wagner
et al.
1990:1326).
Medicines
:
Non Medicinal Uses
: Flowers used in lei (McDonald 1989:67).
Specific gravity of wood
: unknown
Famous Locations
:
Mele
:
`Ōlelo Noeau
:
Dye Color and Parts
:
Kino lau
:
Location on Bishop Museum Kalihi Campus
:
Propagation Information
: Cuttings grow faster, stuck directly into ground & watered well for 1st few weeks; salt/wind tolerable, grows well in sandy soil or red clay soil & in range of elevations; needs full sun; soil should be fairly well drained (Bornhorst and Rauch 1994:4; Nagata 1992:1993 addendum).
Hawaiian Native Plant Propagation Database
.
Native Plants Hawaii
.
Seed
: Seed length approximately 4.5 mm. Photograph: B.Kennedy.
Click for image