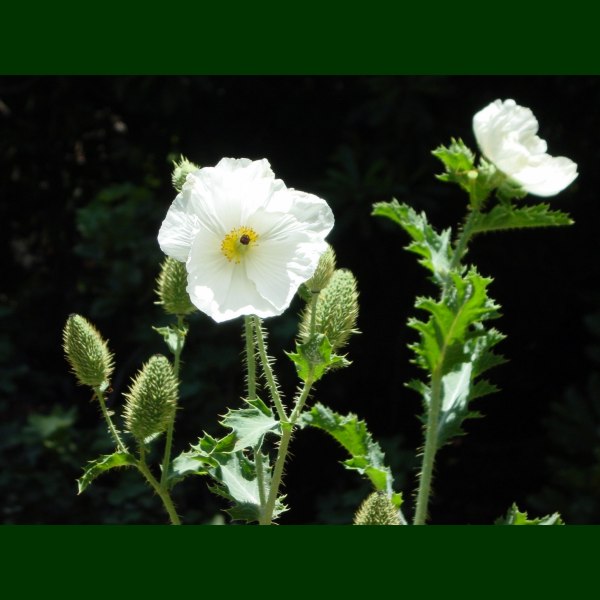 Hawaiian Name(s)
: pua kala, kala, naule, pōkalakala
Scientific Name
: Argemone glauca
Vernacular Name
: prickly poppy
Family
: Papaveraceae
Status
: endemic
Authority
: (Nutt. ex Prain) Pope
Description
: Perennial herbs 7-15 dm long, covered with yellow, stiff prickles & white flowers.
Habitat
Usually occuring on leeward sides of islands in coastal dry forest and subalpine forest between 0-1900 m of most main islands (Wagner
et al.
1990:1005).
Medicines
: The seeds and sap of the stalk used as a narcotic and analgesic for toothaches, neuralgia and ulcers; sap also used to treat warts (Krauss 1993:102).
Non Medicinal Uses
:
Specific gravity of wood
: n/a
Famous Locations
:
Mele
:
`Ōlelo Noeau
:
Dye Color and Parts
:
Kino lau
:
Location on Bishop Museum Kalihi Campus
:
Propagation Information
: Easy. Seeds sprout in Fall, transplant to individual pots after 2nd/3rd true leaves develop, avoid overwatering, flowers after 3 months, after primary stalks have aged cut them back & new shoots emerge; rapid sprouting leads to containment problem (Culliney and Koebele 1999:134–136).
Native Plants Hawaii
.
Seed
: Seed length approximately 2 mm. Photograph: B.Kennedy.
Click for image