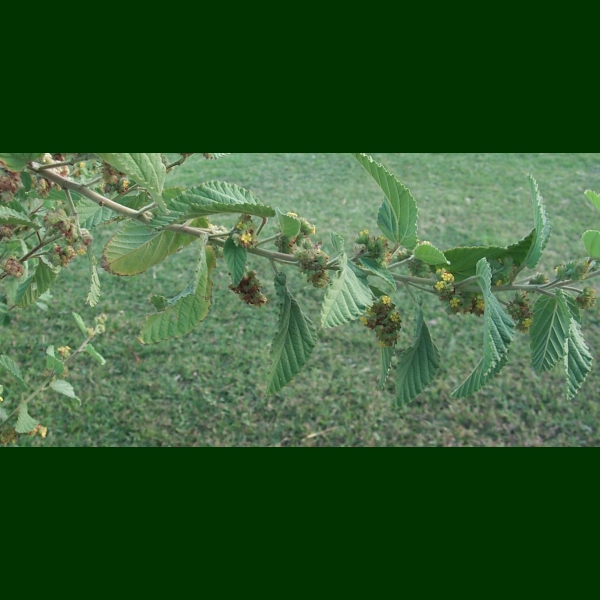 Hawaiian Name(s)
: 'uhaloa, 'ala'ala pū loa, hala 'uhaloa, hi'aloa, kanakaloa
Scientific Name
: Waltheria indica
Vernacular Name
: none
Family
: Sterculiaceae
Status
: indigenous?
Authority
: L.
Description
: Subshrubs 6-20 dm tall, grayish leaves, yellow and red flowers.
Habitat
Often found in dry, disturbed habitats between 0–1220 m (Hawai'i, Kaua'i, O'ahu, Ni'ihau, Moloka'i, Maui, Lāni'i, Kaho'olawe, Midway) (Wagner
et al.
1990:1280.
Medicines
: The flowers of the 'uhaloa are considered "good medicine for children" (more than 10 days old). In treating kunu kohekohe o ka pu'u and 'eha o ka umauma ke hanu a'e the tap root is chewed and the liquid is swallowed and the sediment is discarded. To treat kohepopo, the leaf buds, lower leaves, flowers, and tap root bark are pounded and mixed with 'ala'alawainui pehu (
Peperomia
spp.), kī flowers (ti,
Cordyline fruticosa
), kohekohe (
Eleocharis
spp.), hala aerial roots (
Pandanus tectorius
), niu flesh (coconut,
Cocos nucifera
), ripe noni fruits (
Morinda citrifolia
), and kō kea (white sugarcane,
Saccharum officinarum
). The mixture is strained, and the jiuce of a he'i (papaya,
Carica papaya
) is added and the liquid is cooked, and when cool, drunk. In addition, the patient eats slightly sour poi, fish, lu'au, kukui (
Aleurites moluccana
), and pōpolo (
Solanum americanum
). Tea of ko'oko'olau leaves (
Bidens
spp.) is drunk; koali 'apu is the purgative. For hopilo nae ("run down, lost weight, asthma"), the leaf buds, leaves, flowers, tap roots of the 'uhaloa are pounded and blended with the tap root bark, flowers, leaf buds, and lower leaves of the pōpolo, a ripe niu, noni fruits, and kō kea. The liquid is strained out and cooked, after it has cooled it is drunk. The patient is fed mai'a iholena and niu water. Ko'oko'olau tea accompanies the treatment and koali 'apu is the purgative (Chun 1994:244–247).
Non Medicinal Uses
:
Specific gravity of wood
: unknown
Famous Locations
:
Mele
:
`Ōlelo Noeau
: Aia i kula i ka 'ala'alapuloa. Gone to the plain to gather 'ala'alapuloa. Gone on a wild goose chase. A play on 'ala'ala (octopus liver) meaning nothing worthwhile. 'Ala'alapuloa is another name for 'uhaloa.
Dye Color and Parts
:
Kino lau
: KANALOA.
Location on Bishop Museum Kalihi Campus
:
Propagation Information
:
Hawaiian Native Plant Propagation Database
.
Seed
: Seed length approximately 1.7 mm. Photograph: B.Kennedy.
Click for image