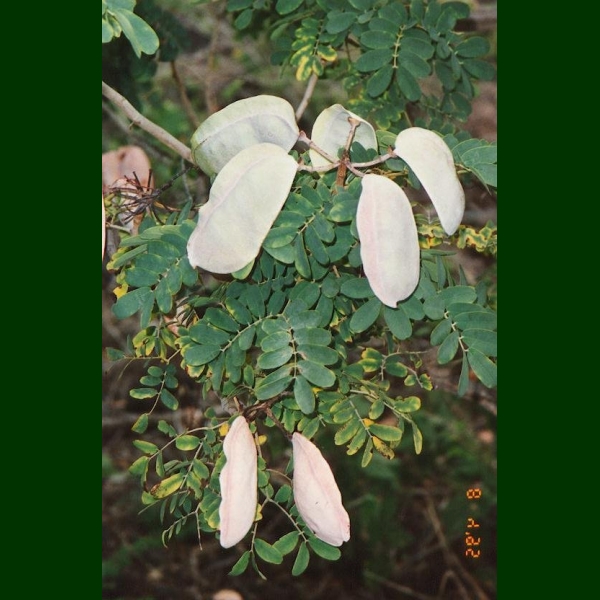 Hawaiian Name(s)
: uhiuhi, kāwa'u (Maui), kea (Maui)
Scientific Name
: Caesalpinia kavaiensis
Vernacular Name
: none
Family
: Fabaceae
Status
: endemic; endangered
Authority
: H.Mann
Description
: Shrubs or trees, 4-10 m tall.
Habitat
Now rare in mesic or dry forest at Waimea Canyon, Kaua'i; central leeward Wai'anae Mountains, O'ahu; Hualalai, Hawai'i (Wagner
et al.
1990:647–648).
Medicines
: To purify the blood, combine and mash young leaves and leaf buds and bark of uhiuhi, along with the inner bark of hāpu'u (
Cibotium
spp.), okolehao (usually of ki,
Cordyline fruticosa
), 'ulu bark (
Artocarpus altilis
), 'uhaloa tap roots (
Waltheria indica
) and sections of kō kea (white sugarcane,
Saccharum officinarum
). Strain mixture through 'ahu'awa (
Cyperus javanicus
) and drink three times a day (Chun 1994:249–250).
Non Medicinal Uses
: Extremely hard wood used to make weapons (Abbott 1992:110–1110), 'o'o or digging stick (Krauss 1993:25), house posts (Kamakau 1976:96; Krauss 1993:56), kapa beaters (Kamakau 1976:109: Krauss 1993:63), la'au kahi wauke or a board for scraping wauke to make kapa (Krauss 1993:610); sled runners (for holoa) (Culliney and Koebele199:136). Also for fish hooks (Kamakau 1976:77; Krauss 1993:43); octopus or fish spears (Kamakau 1976:70: Krauss 1993:34,45). In the Ethnology Collection at Bishop Museum there is a post-contact example of the wood made into a
bowl
.
Specific gravity of wood
: unknown
Famous Locations
:
Mele
:
`Ōlelo Noeau
:
Dye Color and Parts
:
Kino lau
:
Location on Bishop Museum Kalihi Campus
:
Propagation Information
: Difficult. Greenish/khaki colored seeds sprout fastest; scarify, seedlings grow quickly, don't keep in pot for long or roots become potbound; repot in high cinder content for good drainage; responds well to fertilizer; plant out early; do not overwater (Culliney and Koebele 1999:136–139).
Hawaiian Native Plant Propagation Database
.
Native Plants Hawaii
.