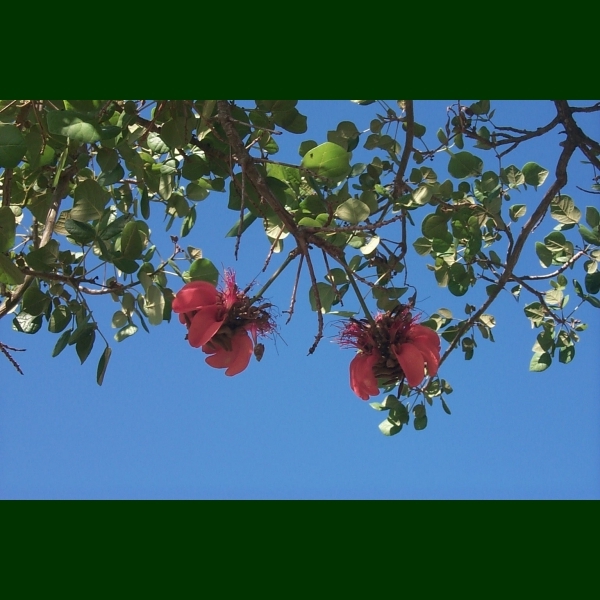 Hawaiian Name(s)
: wiliwili
Scientific Name
: Erythrina sandwicensis
Vernacular Name
: none
Family
: Fabaceae
Status
: endemic
Authority
: O.Deg.
Description
: Tree to 15 m (45 ft.) in height. Bark rough, reddish with spines, appears yellow at distance. Leaflets grouped in threes, each is broad and oval in shape; leaves shed early fall or late summer. Flowers usually orange, sometimes white, yellow, or greenish, shaped like pea blossoms. Large pods contain 1-3 large red/orange seeds, that resemble beans.
Habitat
Dry forests on all main islands, especially leeward slopes between 0–600 m (Wagner
et al.
1990:672).
Medicines
: The flowers of the wiliwili are used to treat venereal disease. A tea from the pounded bark is combined with nioi (chili pepper,
Capsicum annuum
), another herb, and 'awa (
Piper methysticum
), in the morning it is followed with koali (
Ipomoea
spp.) (Akana 1922:74; Chun 1998:52–53)
Non Medicinal Uses
: Light weight wood used for surfboards (Malo 1951:21, 223), outriggers (booms & floats) (Abbott 1992:82; Malo 1951:126), and fish floats (Degener 1930:215), burnt to make paint (Abbott 1992:81); seeds for lei (Abbott 1992:125) and kupee ("hula leglets", Kamehameha Schools 1994:29).
Specific gravity of wood
: unknown
Famous Locations
: Three famous wiliwili trees near Puhi'ula Cave (at Pa'ula in Ka'u, Hawai'i Island). These were three sisters (see moolelo). One of the few native trees that still survives on goat- and bomb-ravaged Kaho'olawe. Section of McCully called Wiliwili. Wiliwilinui Ridge in Wai'alae. The Wiliwili Grove of Kaupe'a in 'Ewa, O'ahu.
Mele
: Hula Mano (performed as ko'i-honua, no instrumentation, hula noho). Auwe! Pau au i ka mano nui, e! (Alas! I am seized by the shark, great shark!) Lala-kea niho pa-kolu. (Lala-kea with triple-banked teeth.) Pau ka papa-ku o Lono. (The stratum of Lono is gone,) O ka ai ia e ka mano nui, (Torn up by the monster shark,) O Niuhi maka ahi, (Niuhi with fiery eyes,) 'Ōlapa i ke kai lipo. (That flamed in the deep blue sea.) Ahu e! au-we! (Alas! and alas!) A pua ka wili-wili, (When the flowers of the wili-wili tree,) A nanahu ka mano (That is the time when the shark-god bites). Auwe! pau ai i ka mano nui! (Alas! I am seized by the huge shark!) Kai uli, kai ele, O blue sea, (O dark sea,) Kai popolohua o Kane. (Foam-mottled sea of Kane!) A lealea au i ka'u hula, (What pleasure I took in my dancing!) Pau au i ka mano nui! (Alas! now consumed by the monster shark!) (Emerson 1909:221).
`Ōlelo Noeau
: [I] Ka wiliwili o Kaupe'a. The Wiliwili Grove of Kaupe'a. In 'Ewa, O'ahu, where homeless ghosts wander among the trees. [II] Pua ka wiliwili nanahu ka mano; pua ka wahine u'i nanahu ke kanawai. When the wiliwili blooms, the sharks bite; when a beautiful woman blossoms the law bites. A beautiful woman attracts young men, "sharks", who fight over her. The law steps in to keep the rivalry from getting out of hand (the law "bites"). It is said that the wiliwili blooms during the mating season of sharks, and that is when they will "bite". This saying is also part of the Hula Mano.
Dye Color and Parts
:
Kino lau
:
Location on Bishop Museum Kalihi Campus
: in corner of lot
Propagation Information
: Easy. Scarified/presoaked seeds, several to a 6 inch pot or 1 to a 3 inch pot with porous soil mix, germinates in a few days, fertilize after 3-4 weeks; grown from large cuttings; summer deciduous results in leafless-with-flowers look so may interplant with an evergreen (Bornhorst 1996:54–55; Bornhorst and Rauch 1994:13–14; Culliney and Koebele 1999:139–141; Nagata 1992).
Hawaiian Native Plant Propagation Database
.
Native Plants Hawaii
.
Seed
: Seed length approximately 15 mm. Photograph: H.Lennstrom.
Click for image
MicroscopyCross Section
: Field of view: 1.5 mm x 1.2 mm. Photograph: D.Woodcock.
Click for image
Radial Section
: Field of view: 1.5 mm x 1.2 mm. Photograph: D. Woodock.
Click for image
Tangential Section
: Field of view: 1.5 mm x 1.2 mm. Photograph: D.Woodcock.
Click for image