Introduction to the HAS

Kuliouou shelter - click for larger image
Welcome to the Anthropology Department's Hawaiian Archaeological Survey (HAS). This searchable database contains information from each site in Hawai'i excavated by Bishop Museum archaeologists.
It is our hope that the HAS database will facilitate access to these extensive records associated with the Bishop Museum's archaeology collection. Our goal in the creation and development of the HAS database has been to enhance the appreciation and knowledge of Hawaiian culture and ancient past of Hawai'i among the greater community. At present, the records for over 12,800 archaeological sites are accessible in the HAS.
Soon after its founding in 1889, Bishop Museum began to study and document the archaeological record of the Hawaiian archipelago. These endeavors resulted in the world's largest collection of Hawaiian artifacts. These objects total over a million and represent Native Hawaiian and historic Hawai'i immigrant life.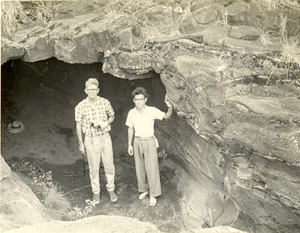 Bishop Museum archaeologists Kenneth Emory and Yosi Sinoto -
click for full sized image
In 2008, the Hawai'i State Legislature recognized the Museum's past and present actions by designating Bishop Museum as the portal for the Hawai'i Archaeological Survey. This survey is intended to preserve cultural information and to be used as a resource for the Hawaiian community and others interested in studying the dynamic cultural history of Hawai'i.
Bishop Museum staff is proud to facilitate access to these collections and to provide a wealth of information from the associated literature in the comprehensive computerized HAS database. For additional information pertaining to HAS please send an e-mail detailing your query to hasadmin@bishopmuseum.org.